The Altagamma Consumer&Retail Insight 2023 survey, drawn up by the Foundation and by the Consulting Group, paints a picture of a demanding market, strongly growing and transforming, oriented towards the use of digital in all phases of the purchase experience.
According to the ninth edition of Altagamma Consumer and Retail Insight, recently presented in Milan, there are around 20 million highest-spending consumers, out of a total of 370 with a high-spend capacity.
It's a segment with an above-average propensity to spend, with an expected increase of +40% compared to the average True-Luxury purchase propensity. The most dynamic markets in this sense are China (+50%) and United States (+40%), while Europe follows at a distance with a trend of -40%. After the return to pre-pandemic levels for personal luxury goods, experiential luxury is also starting to run again, with a growth rate expected to be worth 57% of total market value in 2023.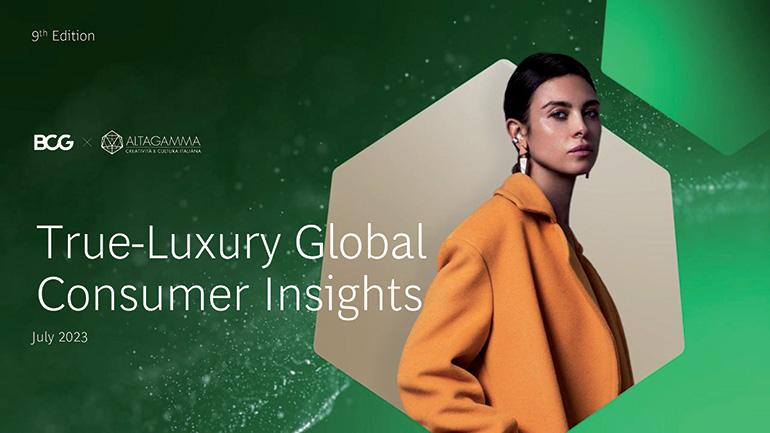 The geopolitics of luxury
Looking at the best-performing market, China, the opportunities generated by the digital ecosystem are also significant, with 46% of domestic purchases of Chinese consumers made online, in which high-spending consumers sustain the market with around 40% of the total expenditure, while youngsters below 30 and consumers in lower-tier cities will contribute increasingly more to the growth of the sector.
The Middle East also represents a promising opportunity; here the personal luxury market is valued at around 15 billion euros in 2023 and is expected to be 30-35 billion in 2030, with the United Arab Emirates (UAE) and the Kingdom of Saudi Arabia (KSA) the main drivers of regional growth.
Customer experience between digital and the physical channel
The mapping that BCG has carried out on 2,600 luxury customer journeys, has made it possible to investigate some significant elements for making the experience offered by brands satisfying for True-Luxury customers. Particular attention is given to digital, considered less satisfying than the physical channel, which in the luxury sector is appreciated twice as much as in the mass market.
This is despite the trend for consumers to move towards the use of devices and digital, seen as vehicles for enriching purchasing experiences in which, however, luxury brands experience satisfaction below 50% compared to mass retail and pure online operators. According to the researchers, in the last few decades, brands have concentrated on enhancing the store experience, finding themselves noticeably behind in the online channel. To improve the experience in a context in which over 50% of customer journeys are multichannel, brands are called on undertake a solid path of innovation, which includes new solutions such as, for example, Generative AI, which offers advantages extending to the entire value chain, with a very high impact on marketing, personalisation and customer experience.
In addition, this technology could extend the "VIC (Very Important Consumer) treatment" also to other aspirational luxury customers, numbering 350 million consumers.
New generations, new channels
In line with the need to innovate products, channels and formulae, it's also necessary to remember the impact of the generational shift. In 2022, in fact, between Millennials and Gen Z, young people represent a value exceeding 200 billion euros, which is expected to double by 2026, when they will represent 75% of the market. This is why, in such a dynamic scenario, brands must take account of the characteristics that distinguish the different targets according to geography, age and social status, studying diversified engagement strategies, with personalisation of the offer, communication, channels and tools.
Read more in "Facts and data"