Focus on the coffee and tea market and on the types of packaging of these products belonging to the large "drinks" area.
Barbara Iascone
While at one time coffee and tea were mainly consumed as hot drinks, today they are also drunk cold, and have both become widely accepted as thirstquenching and refreshing products.
Reference markets
Coffee
Our country is one of the major producers of coffee, with reference, however, only to the processing of roasted coffee, in the absence of native plantations. The roasting process involves the roasting and grinding of imported green coffee beans, and this activity distinguishes Italy in the production process thanks to expertise in the blending of beans coming from different geographical areas. Production, export and consumption therefore depend on the above-described process. In 2021, the latest data currently available, around 900 companies were involved in this procedure.
Table 1. Balance of coffee market in Italy.
|   | 2021 |   | 2022 |   |
| --- | --- | --- | --- | --- |
|   | mln Euro  | t/000 | mln Euro  | t/000 |
| Production of roasted coffee | 4,571 | 489 | 4,800 | 508 |
| Total imports | 1,493 | 645 | 2,464 | 703 |
| Imports green coffee | 1,239 | 620,5 | 2,190,00 | 674.5 |
| Imports roasted coffee | 254 | 24.5 | 274 | 28.5 |
| Total exports | 1,775 | 290 | 2,249 | 310 |
| Exports green coffee | 58 | 15 | 71 | 14 |
| Exports roasted coffee | 1,717 | 275 | 2,178 | 296 |
| Apparent consumption | - | 331 | - | 365 |
| Consumption of roasted and ground coffee | - | 264.4 | - | 291.6 |
| Non industrial consumption |   | 235.87 |   | 251.33 |
| Domestic consumption |   | 144.36 |   | 159.21 |
| Horeca consumption |   | 77.73 |   | 85.73 |
Source: III databank processing of Istat data.
In 2022 the turnover of the sector analysed reached 4.8 billion euros, for a total of around 508,000 tonnes of coffee produced, with a growth rate against 2021 of 5% regarding turnover and 9% with respect to production expressed in tonnes.
With regards to foreign trade, in 2022, over 674,500 tonnes of green coffee were imported, equivalent to 2.2 billion euros. If we consider also other smaller imports (roasted coffee, soluble coffee and coffee-based preparations) the number of tonnes arrives at 703,000.
Analysing ISTAT (official statistics) data, 96% of coffee imports include green coffee imported from various producer countries, and this represents the volume available for processing in our country. Over half of green coffee imports come from Brazil (Arabica quality) and Vietnam (Robusta quality).
The remaining imports relate to roasted coffee, usually soluble and ground in capsules, coming mostly from the Swiss factories of the Nestlé-Nespresso Group. Exports mostly relate to roasted coffee and around 38% of the Italian production is exported: in 2022 the tonnes of roasted coffee exported were 296,000, for a value of around 2.2 billion euros. Analysing the numbers referring to exports, the main countries of destination of our product are, as always, Germany, France and the United States.
Table 2. Balance of the tea market (values expressed in millions of litres).
|   | 2021 | 2022 |
| --- | --- | --- |
| Production | 577 | 619 |
| Import | - | - |
| Export | 39 | 48 |
| Consumption  | 538 | 571 |
Source: III databank processing of Istat data.
When, however, we look at coffee consumption, analysing the weight data, a number of factors are worth considering. First of all, the fact that roasted and ground coffee weigh around 20% less than green coffee granules, moving from 365 t/000 to 292. Of this, 84% is intended for the preparation of the drink, consumed in and out of the home, while the remaining 16% is allocated to industrial use, that is to say, in the preparation of products such as ice-creams, yoghurts, soft drinks, desserts, etc. Looking at the numbers, the tonnes of packaged coffee consumed in Italy in 2020 were 244,900.
The coffee destined for direct use requires a further segmentation: 75% is intended for domestic use (including coffee in pods in offices), while the remaining 25% is covered by Ho.Re.Ca. and (non-pod) vending machines consumption. In the last few years, with the spreading of dispensers and coffee-makers, especially in offices and public places, consumption considered as domestic, and therefore different from that of bars and restaurants, has noticeably increased.
A further subdivision takes into consideration the different types: in the home, ground coffee arrives at 90%, while the granule form represents 6.7% and soluble 3.3%.
Table 3. Mix of coffe packaging for direct consumption. Figures % for quantity of product packed in the year 2022.
|   | 2022 |
| --- | --- |
| Flexible polylaminates | 84.30% |
| Steel cans | 7.10% |
| Pods and capsules | 6% |
| Paper bag | 2.20% |
| Glass jar | 0.30% |
| Cardboard folding box  | 0.10% |
Source: III databank processing of Istat data.
Tea
In this analysis, there are two types and tea and infusions: those sold in bags or loose and which are prepared by the consumer to make both hot and cold drinks; on the other hand, there are the ready-made drinks consumed cold or at room temperature.
It's important to underline that there are very few tea plantations in Italy, and so when we talk of national production, we are essentially referring to the packaging of imported loose tea. With regards to sector numbers, we have seen alternating trends in the last few years. After a 2020 characterised by decidedly higher volumes (+10% on the previous year), 2021 saw an inversion in this trend, with volumes falling by 5.4%, a trend confirmed also in the fall in turnover, which stood at around -3.8%. The negative trends were confirmed again in 2022, when the volumes fell by around 1.9% for tea and 1.1% for camomile; we are looking at a total of around 2.65 billion filters.
In this context, tea confirms its dominance in the category, with a share in terms of volume of 54%. In Italy, the consumption of tea does not only concern that of infusion, given that a very important slice of the market refers to the consumption of the packaged cold drink, often purchased as an alternative to other soft drinks, both still and carbonated or fruit juices.
Cold tea is the most consumed cold still drink in Italy, with a pro capita consumption of over nine litres per year, one of the highest values at European level. Italy was the first European market to see the "boom" in cold tea, which is still today the most consumed beverage, second only to Coca Cola.
Besides the traditional fruit flavours, other variants have taken hold: green tea (which today accounts for around 9% of total volumes), cold decaffeinated tea (this targeted mainly to youngsters) and cold tea flavoured with various fruit flavours. According to the analysis of the data of the Italian packaging institute, in 2022 the consumption of this soft drink stood at around 571 million litres, with a growth of +6%. Driving this consumption was undoubtedly production, up by 7%. On the basis of an analysis of the sector, there are no imports of this soft drink, while exports continue to grow (+23% in 2022). The major brands in the context are Ferrero with the Estathé line, and the latest to appear, Fustea, by Nestlè.
Table 4. Mix of tea packaging. Figures % for quantity of product packed in the year 2019.
|   | % |
| --- | --- |
| PET bottles | 71% |
| PS beakers | 16.80% |
| ALU tins | 6.50% |
| Brik | 3.00% |
| Cheerpack | 2.40% |
| Glass bottles | 0.30% |
Source: III databank processing of Istat data and associations figures
The packaging
Coffee
Around 28,400 tonnes of packaging were used in 2022 for packing coffee used for making the drink. This value includes both the part directed to the Horeca sector (bars, restaurants and catering) and that consumed at home (including capsules used in the home and in the office). Translated into value, we arrive at around 145 million euros. Let's see in detail the subdivision of the packaged product analysed by packaging type.
84.3% of the product is packed in flexible polylaminate bags with capacities ranging from 250 g to 3 kg, the latter intended for horeca.
7.1% in steel jars, with the same capacities as the polylaminate bags. • 6%, growing, is represented by single-portion coffee packed in aluminium capsules or in plastic or paper pods.
the remaining 3%, mainly soluble coffee, is packed mainly in paper bags (2.2%) or in glass jars (0,3%).
Cardboard boxes account for 0.1%.
In the single-portion coffee context, capsules continue to prevail over pods, even if the latter are heading towards a relaunch, given their greater sustainability. Various producers have also begun to produce compostable capsules, in this way getting round the problems relating to the recycling of the packaging. Opening a window on just the horeca sector, 85.5% is represented by flexible polylaminate packets, 6% by the paper bag and 8.5% by a steel tin. All the packets have a capacity of over 1 kg.
Tea
The packaging mix with relation to tea and infusions should be distinguished according to whether we are talking about the product intended for infusion or if the sector under analysis is the packaged soft drink. In the first case, we are talking about packaging in single bags or the loose product. The single bags are contained in cardboard boxes, with an average of 20 bags of 2 g for every box, while the loose product is packaged in cardboard boxes for around 75%, and in steel jars for around 25%. With reference to the packaged soft drink, the packaging mix is decidedly more varied. The packaging in PET bottles is the most widespread (71%), with sizes ranging from 50 cl to a litre and a half. Then we find the small 20 cl glass in PS accounting for 16.8%, and the 33 cl aluminium can representing 6.5%.
Cartons represent 3% and cheerpacks 2.4%; the latter, in the last five years, has been gradually eroding the market share of both small bottles in PS and cartons. The analysis ends with the packaging of cold tea in the 50 cl glass bottle (0.3%) which, confirming what has emerged in recent years, continues its slight rise.
In 2022, around 21,300 tonnes of packaging were used for packing tea drinks, equal to a value of around 170 million euros.
Barbara Iascone Italian Packaging Institute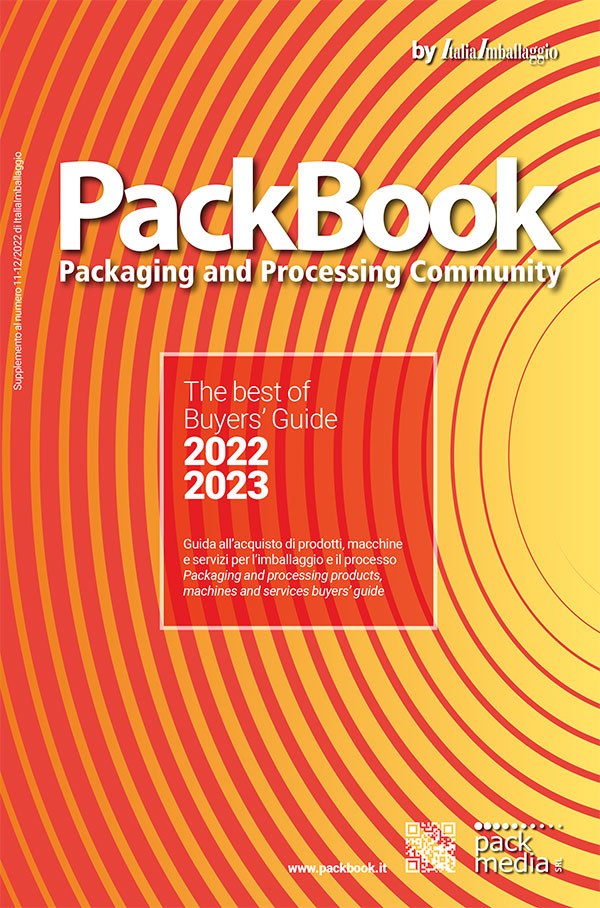 Find out more information about the companies mentioned in this article and published in the Buyers' Guide - PackBook by ItaliaImballaggio
Istituto Italiano Imballaggio
Read more in "Facts and data"