Conversation on sustainability with a leading beverage company, covering consumer trends, technical innovation, packaging design and recycling. An open dialogue with Cristina Miele, Administration, Finance and Control Director of Ferrarelle.
It's a brand that needs no introduction in Italy, but it's worth reminding readers that Ferrarelle is the fourth Italian group by volume in the mineral water sector and, besides being the owner of the same brand, it's also owner of the Acqua Vitasnella, Fonte Essenziale, Boario, Natía, Santagata and Roccafina brands bottled in two factories, one in the north and one in the south of the country: Darfo Boario Terme (Brescia) and Riardo (Caserta).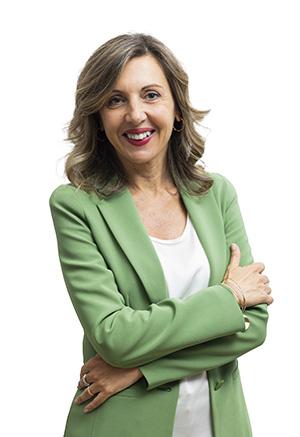 Their location is an essential element in the business strategy which is characterised by sustainability, a concept for which – as a Società Benefit – it is a standard-bearer, focusing on organisational well-being, the territory and the environment.
Cristina Miele, Administration, Finance and Control Director, talks to us about the company and its vision, in which packaging is a significant element, introducing a reflection on the role of the consumer in a dialogue with companies, in a process of osmosis in which there is collaboration between those who produce and those who buy, pushing for ever higher goals.
«The consumer is more informed every day and their attention towards sustainability increasingly relates to the climate, what we eat and drink and the environment, guiding business strategies and consumer habits attentive to the social and human dimension» Cristina Miele begins. «On the other hand, people demand that all of this has no effect on prices, as the consumer, although sensitive to these issues, is not prepared to pay more. On the packaging front, moreover, there are differences between the various sales channels, influencing the choices of producers. Thanks to the new awareness and virtuous habits of the Italian consumer, most bottles bought via mass retailing, for example, are deposited and disposed of correctly, turning into a resource.

The same cannot be said, however, of the Horeca channel. In this case, the greater difficulty in correct disposal, combined with growing attention to the issue of sustainability on the part of the operators involved, such as, for example, major rail carriers, beach resorts, and commercial activities such as bars or restaurants, influence the choice to use up to 100% recyclable bottles so as to compensate for the limits in post-consumer management»
Informing and training from a green point of view
Its long history of attention to green themes, as well as the constant dialogue with the market, allows Ferrarelle to orientate consumers towards ever-more sustainable choices: on the one hand, the company collects feedback and suggestions and, on the other hand, indicates a clear direction.
In this regard, Cristina Miele continues:
«We have set up projects for elementary schools, very focused on recycling. In the past, we have involved children in the creation of labels for half-litre Ferrarelle bottles of water, while we plan to involve children in programmes aimed at promoting a civic sense among the new generations that is more attentive to the environment and biodiversity and which focuses on raising awareness of their role in recycling processes. Economic and environmental sustainability is possible precisely as a result of collective action, arising out of the collaboration between consumers and producers ».
Investment, R&D and logistics for an ethical supply chain
Ferrarelle has long invested in technological innovation, the eco-design of packaging (with particular attention to latest-generation materials) and recycling.
«And they are considerable investments - Miele continues – in particular in solutions able to optimise energy and resources, in more performing materials in production, more efficient plant, and not forgetting transport logistics, the correct management of which is essential for significantly reducing emissions.

It should be remembered that sustainability is a question of the supply chain, which includes every element of the chain, from the supplier of raw materials to the packaging and right up to end-of-life, taking into due consideration the fact that transportation, with its impact, can undermine efforts in other directions. This is why, for example, we are part of a pallet exchange circuit, avoiding useless empty returns and limiting emissions also in our logistics chain, without forgetting that the two production sites, located in the north and in the south, enable an optimized transport management ».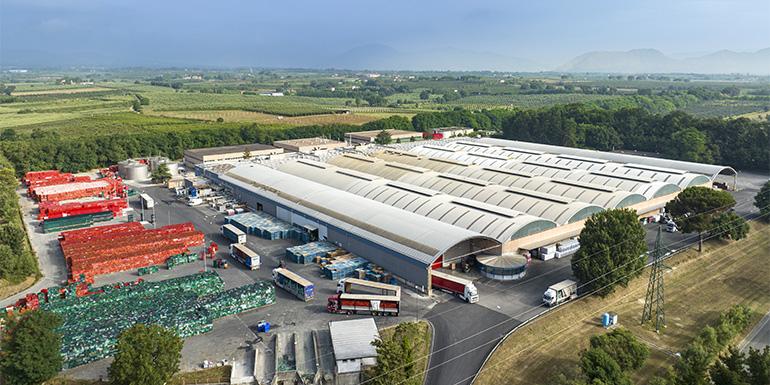 Key enterprises of the ecological transition
The role of large operators in accelerating virtuous processes is increasingly recognised, given the volumes handled and a business organisation that allows for the pursuit of long-term objectives. This is why Ferrarelle believes it has an important guiding role with respect to its suppliers, albeit without stringent parameters that would exclude local operators, to the advantage of businesses able to respond to requirements in terms of certifications and the sustainability of processes.
This attention to the territory and its harmonious development is included in the framework of responsibilities of a Società Benefit, an aspect that Miele comments on as follows:
«Ferrarelle is not yet a BCorp but is currently a Società Benefit. Today requiring local suppliers to sign up to our model would be difficult, because it would exclude a share that we are helping to grow. We therefore apply rigid internal policies, but we select suppliers without imposing a similarly rigid set-up, but rather, pushing them towards increasingly sustainable choices ».
Producing rPET for a measurable sustainability
Ferrarelle has for some years drawn up a Sustainability Report and has adapted the procedures to the most stringent reference regulations, while an impact report is published with the financial statements for the period, fully complying not only with the above regulations, but also those normally required of B Corps, with a section dedicated to suppliers and to the requirements that need to be gradually complied with.
We pursue a rigorous management approach that is underpinned by the choice of a particular material, PET, for which Ferrarelle has developed a packaging design programme based on recycling and on recycled material.
«The main material for us is PET; the recycling project began in 2015 with the design of the new production site built by Ferrarelle in Presenzano (CE). Here preforms with virgin PET and recycled plastic were produced initially for non-food use and then for food products, also overcoming own-consumption needs, thereby making it possible to sell the material externally. Becoming producers and recyclers meant acquiring all the certifications necessary, including EFSA and achieving compliance with national standards, opening up the way to enable us to use up to 100% of recycled plastic in our bottles. Subsequently, the plant was acquired by a supplier, who is still today a reference supplier as it ensures the quality that we contributed to developing».
Ferrarelle, therefore, offers the market a range of 100% rPET bottles for bars and restaurants for which, as already mentioned, recycling is more complex and needs to be compensated with a more sustainable material. For supermarket and mass retail, here, instead, the bottles have at least 50% of rPET, which the consumer can deposit correctly sorted, especially in a country with recycling percentages above 80% like ours. Direct production has allowed the company to develop research programmes that combine sustainability and design, finding valid solutions with regards to materials and the percentages of recycled material to be used, and finally, to packaging design.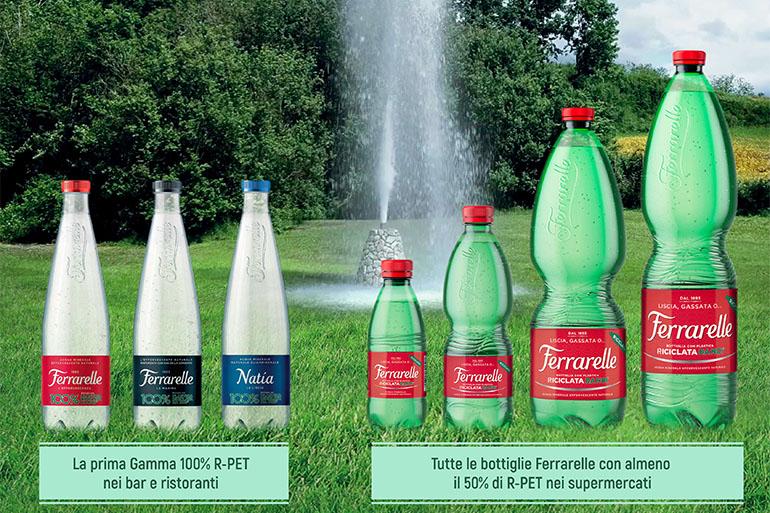 Recycle or reuse? There is only one answer
The Campania company's propensity for recycling inevitably raises a question regarding the Packaging Directive, a theme on which Ferrarelle has a strategic vision based entirely on the measurement of the impact of different management approaches, whether this relates to recycling or supply chain logistics.
«Plastic is indispensable for its product protection qualities and for food safety» Miele points out. «For the horeca channel, however, we also use glass as a completely recyclable material, brought to our production site for the re-bottling process. Needless to say, in terms of impact in a sector like ours, considering the logistics that require the movement of empty trucks, reuse is not advantageous and for plastic, impossible.

In 2022 we bottled more than 1 billion litres, giving a measure of how reusing bottles with volumes of this size would impact on emissions. We believe, therefore, that the correct way forward is a constant increase in recycling combined with a focus on saving resources, acting on materials and on decreasing the weight of packaging, while preserving aesthetics and stability. These are issues on which Ferrarelle invests in R&D for the development of always new materials which today make it possible to have a fully recycled bottle, in PET, chosen because it the most recyclable material, in an ideally infinite circular economy. We therefore believe that there's little point in demonising plastic but, rather, in incentivising its collection, a trend for which the Italian consumer is not only prepared but also convinced and attentive, given that they have been doing so correctly and constantly for years.

Recycling is, therefore, in our opinion, a resource and an asset: constantly improving its management becomes a priority and regarding which we have chosen a clear direction which will not change. We are, in fact, increasing the reference products made with recycled material as well as the percentages of recycled material itself, because we believe that reducing consumption of virgin plastic is a correct choice and recycling the best solution for reducing the impact of production on the environment ».
Read more in "Facts and data"