2022 data on the sector, market segmentation and types of packaging.
Barbara Iascone
The sector under examination is wide and varied: baked products and snacks can be consumed at every mealtime - from breakfast to dinner – but also between meals and a divided into two macro-areas, savoury and sweet.
The production of these foods has undergone a formidable evolution, so as to very quickly meet all the demands of the market. The last big challenge has been "gluten free" productions: due to the spread of problems linked to coeliac disease, the sector has had to renew itself and offer adequate solutions also for those intolerant to gluten, to the extent that, today there is a gluten free alternative for almost all products, from bread to piadinas, from biscuits to children's snacks and for every other type of snack.
Sweet and savoury baked products
The bakery sector includes industrial bread, bread substitutes (crackers, breadsticks, taralli, etc.), biscuits, rusks, various pastries, children's snacks, packaged cakes and (leavened) products for special occasions. The first data referring to 2022 - for certain aspects still being processed and, therefore, not final - show a sector that that is worth around 7.4 billion euros, up in terms of turnover (+4,5%) and in which the domestic market reaches a value of around 5,700 million euros. Imports and exports are also growing, by 17% and 15% respectively. From the point of quantities, over 1,640,000 tonnes were produced in 2022, showing a slight increase compared to 2021 (+0.7%). Both imports, +5.4%, and exports, +5.7% are growing. The domestic market stands at around 1,289 t/000, with a -0.6% trend.
Table 1. Balance of the baked products sector. Figures expressed in tonnes.
|   | 2021 | Preliminary 2022 | Var. 22/21 |
| --- | --- | --- | --- |
| Production | 1,632 | 1,644 | 0.70% |
| Import | 297 | 313.17 | 5.40% |
| Export | 632 | 667.79 | 5.70% |
| Export | 1,297 | 1,289 | -0.60% |
Market segmentation
66% of baked products are sweet, in which around 54.6% relates to the biscuits area and 12.4% to children's snacks. 10.6% of sweet baked products relates to pastries of various types (small pastries, filled and not, wafers, etc.), followed by leavened special occasion products with 10.2%, rusks with 9% and ready cakes with the remaining 3.2%. With regards to savoury baked products, the breakdown is less structured; we have, in fact, on the one hand, packaged industrial bread, with 53% and, on the other hand, bread substitutes (crackers, breadsticks, taralli, etc.) with 47%. Both areas are recording significantly improved turnover with respect to production: they in fact close the year with positive trends (+3% the sweet macro-area and +7% for the savoury macro-area), while quantities, especially for sweet products, haven fallen by 0.7%. The very important biscuits area shows a -0.5% fall, similar to that for rusks -4.5%; they are two sectors with quite low average prices per kilo and which, for this reason, only marginally influence the overall turnover trend. The sectors with positive trends are those characterised by higher prices per kilo: this is the case, for example, of children's snacks and pastries.
| | |
| --- | --- |
| Total baked sweet products | 66,40% |
| Of which: |   |
| biscuits | 36,20% |
| children's snacks | 8,20% |
| various pastries | 7,10% |
| rusks | 5,90% |
| ready cakes | 2,20% |
| festive productions (leavened)1 | 6,70% |
| Total baked savoury products | 33,60% |
| Of which: |   |
| packaged industrial bread | 17,70% |
| bread substitutes | 15,90% |
| Total | 100% |
The snacks between
meals area The market of products as a snack between meals is continuously evolving; according to the latest data available, it has been experiencing particular expansion since 2021 and, in terms of value, has exceeded 880 million euros (+5% compared to 2020). The trend is positive also from the point of view of quantities: in 2021 growth was around +1.5%, exceeding 116 t/000. This area includes, besides crisps of various kinds and flavours with a decidedly higher weighting than other segments, extruded products, snack kits, which are continuously growing, and finally, various types of crackers, of which single 100g portions have particularly grown.
Packaging: types and materials
With regards to the packaging used for packaging baked products and snacks, we can say that it is almost the sole prerogative of flexible laminate packaging (97.7%.) This is because the main factor for the choice of packaging is the ability to keep the product fresh and to preserve its quality characteristics: softness, fragrance and, in some cases, crunchiness. Today, however, the choice of packaging used also in this area is influenced by the demand for sustainability. To this end, solutions have arrived on the market with biodegradable and compostable materials with low environmental impact, also totally recyclable. For example, with regards to biscuits, 96% of the packaging is represented by flexible mainly paper laminated sachets; 2.3% is represented by plastic bags and 1.5% by cardboard boxes. Fancy steel boxes account for the remaining 0.2%. With regards to the packaging mix with reference to the other product categories in the area, packaging is almost exclusively plastic bags in flexible laminate made with converters. If we consider the segmentation of the packaging mix, in relation not only to primary packaging, 97.7% of packaging is with flexible laminate, whether predominantly plastic or predominantly paper, for a total of around 25,000 t/000. The remaining 2.33% is subdivided into flexible plastic packaging, cardboard boxes and steel boxes (fancy boxes used for gift packages and small pastries).
For needs linked to distribution, some types of products, such as, for example, children's snacks or crackers, have more complex packages: single-portions are, in fact, packaged in 20/30-micron PP mono-film, to be placed in a cardboard box, forming a multipack usually wrapped in flexible film. The same applies to the packaging of cereals, for both breakfast cereals and cereal snack bars. Including primary and secondary packaging and transport, in 2022 the entire sector used a quantity of packaging of around 155,000 tonnes, of which around half relates to products for export.
Table 3. Packaging mix. % Values of tonnes of packaging. 2022 data
| | |
| --- | --- |
| Flexible polylaminates | 97,70% |
| Mono-film plastic sachets | 1,30% |
| Cardboard boxes | 0,90% |
| Fancy steel boxes | 0,10% |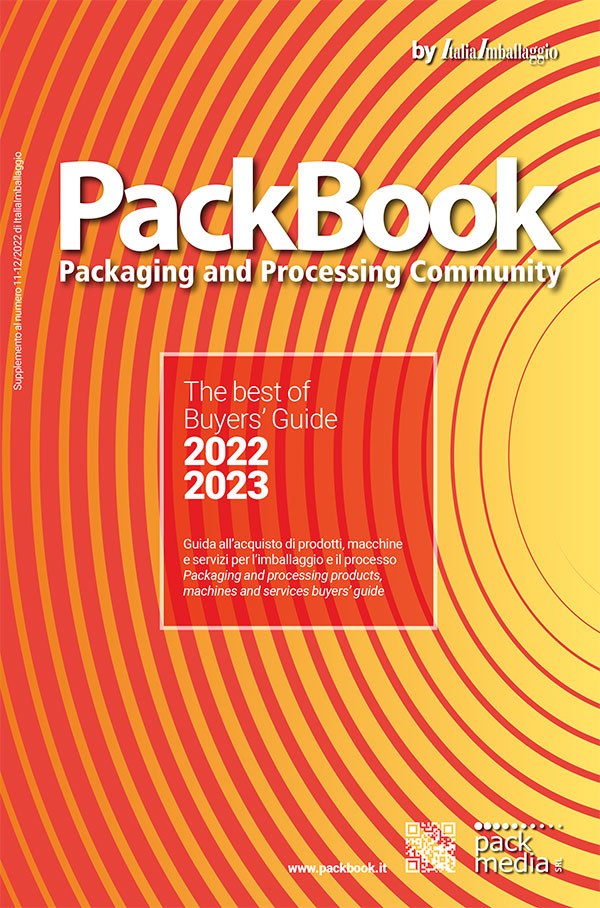 Find out more information about the companies mentioned in this article and published in the Buyers' Guide - PackBook by ItaliaImballaggio
Istituto Italiano Imballaggio
Read more in "Facts and data"