Sustainable packaging guides Italians' food purchases. Latest Nomisma report updates.
By Maria Costanza Candi
Included in the calendar of events of the nineteenth edition of "Marca by BolognaFiere", which was held in Bologna on 18 and 19 January 2023, the meeting centred on Nomisma's Consumer Products Packaging Observatory forecasts offered an overview of the impact of packaging on the current ecological transition, also taking account of inflationary scenarios. An important opportunity for discussion with the Mass Retail Trade, the event focused on the market trend and on the impact that increasingly widespread sensitivity to green issues has on purchasing habits. The event opened with an interesting analysis of the general situation by Silvia Zucconi, Nomisma's market intelligence manager, who analysed the responses of 1,000 purchasing managers between 18 and 65 years of age.
Confidence is not lacking, despite everything
Looking at the data, it emerges that despite the loss of purchasing power and the international crisis, sustainability remains an important part of consumers' considerations and guides their choices, often overcoming the increasingly problematic factor of price.
Nomisma defines the unexpected consumer confidence as a "Surprising Serenity" in the light of the measurement of a series of elements that range from hope to concern, from health to the value of the social network, from the Ukrainian conflict to the cost of energy. In this scenario, climate changes have not taken a back seat, even in the complex 2020-2022 period. In 88% of cases, in fact, the interviewees have changed their purchasing strategies in order to combat inflationary pressure by reducing food and energy waste, searching for discounts and value for money and reducing quantities.
Attention on the climate
In all this, attention toward sustainability has not waned but, rather, remains high: despite all the simplistic alarms, the state of the planet is seen as a real problem. This view is shared by 23 million Italians who believe that environmental issues are a factor that cuts across many different key areas: businesses, industry, distribution, Italian and European policy-makers. All institutional parties are, therefore, called upon to take concrete actions, to which consumers add their own active commitment as co-protagonists. According to 35% of purchasing managers, in fact, the ecological transition is also pushed by conscious consumer choices and lifestyles.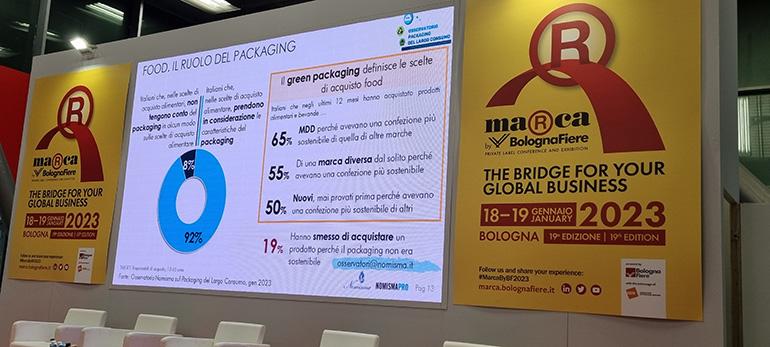 Developing eco-sustainable shopping
The sustainable food and non-food shopping trolley, which has grown by 3.4%, is worth 14 billion euros of sales linked to different types of sustainable products or characterized by sustainable packaging. There are 33,000 reference brands in the market of this segment which the consumer can turn to, focusing attention on the origin of the product, whether national or local, on the supply chain and on traceability; these are elements which, together with value for money, represent the pillars underpinning the choices of 40% of those interviewed. In this context, sustainability is gaining increasing importance: 33% choose it as the main factor, while 28% also look at the packaging. This, in intentions over the next 12 months, translates into the purchase of sustainable products right from the packaging, attention to overpackaging and materials, with an impact on the intrinsic value of the packaging.
It is interesting to note that this approach guides the choice of a brand, which is expected to be in line with green issues; the same applies to retail brand names, chosen by 44% of the sample when implementing strategies characterised by sustainability in all aspects of its supply chain.
Green packaging drives the green revolution
Packaging orients the choices of 92% of interviewees, who consider the sustainability of the product and the packaging as an essential value of a new reference product on the shelf and a reason to change brand, trying out new proposals. An interesting element clarifies this point: 65% say they choose an own-label product precisely for its sustainable packaging, while 50% have tried a different brand thanks to its green component. As many as 19% of consumers declare to have abandoned a product due to its non-sustainable packaging.
Packaging information and communication
The central importance that packaging is assuming in the eyes of consumers, besides the already proven attitude towards environmental policies, is pushing producers and retailers to work on communication, making the contents of labels less technical and raising the awareness of consumers on the role that they can play in strategies for reducing environmental impact. This is a goal achievable through providing information on recyclability, CO2 emissions generated in the course of production, and on the percentage of contents which are recycled. They are data already present on 61.5% of the 23 billion of packages sold every year, even though further efforts are required to increase their diffusion, variety and clarity. 77% of Italians believe, in fact, that a standard score or indication of the level of sustainability would allow for comparison between different products, inserting "greenness" into evaluation parameters alongside price and quality. This is a request arriving from 26% of consumers, revealing the need to have the necessary means to make conscious and informed choices, useful also for combatting greenwashing, from which they feel unable to defend themselves.
Cardboard and glass are winning the perception challenge
Looking at materials, two clear winners emerge, cardboard for drinks and glass, but with an important distinction between beverages and food. Cardboard comes out on top in the beverage sector, being seen as more ecological by 59% of consumers, while 36% think glass is best and 31% recycled plastic. For food, the values are inverted: in first place glass is seen as the most sustainable for 67% of consumers, followed by cardboard for drinks at 38%, tin and aluminium at 36% and recycled plastic at 14%.
To end the day's proceedings, the following contributed their views of the market: Roberto Comolli CEO of Cuore dell'Isola, Paolo Maggi, President of TETRA PAK South-Europe, Alessandro Marson, LCA Expert of Spinlife, the spin-off of the University of Padua, Pier Paolo Rosetti, General Manager of Conserve Italia, for a stimulating round table coordinated by Marina BASSI, Chief Editor of MARK UP and Gdoweek.