At IPACK-IMA and Pharmintech 2022 eight companies of the Coesia Group (ACMA, Atlantic Zeiser, Citus Kalix, FlexLink, GF, HAPA, Norden and Volpak) presented their latest innovations in terms of production, printing and factory automation that are aimed at improving production efficiency, increasing the digitalization of operations and reducing the ecological footprint of packaging for the consumer and pharmaceutical markets.
 
Thanks to the companies of the Group, Coesia is able to offer customers a complete portfolio of solutions and services. It focuses more and more on digital tools and services - fundamental pillars of its business strategy - to optimize the efficiency of machines, lines, entire factories and customer service, as well as to enhance solutions that are increasingly sustainable.
 
In fact, in the two stands (IPACK-IMA and Pharmintech) there was an area dedicated to Coesia Digital and customer service, featuring the latest innovations:
Coesia's new smart HMI was developed to expedite operations such as format changes, troubleshooting, maintenance or technician training, and to facilitate access to wizards and digital documentation directly on the machine. OptiMate installed and visible on ACMA, Hapa and Enflex solutions, which are brands of Volpak, a Group Company.
PerforMate, Coesia's IIoT platform for real-time machine monitoring, allows for improvements in control, collaboration and performance of the entire machine fleet, also acting as a single portal for many innovative services. PerforMate installed and visible on the Norden machine.
HyperMate, an end-to-end solution for Manufacturing Operations Management, is designed to achieve complete digitalization of production processes. Thanks to its ability to adapt to customer processes, HyperMate promotes automation and improves the quality of operations, scaling the machine's automation model at the factory level.
In the Coesia stand at IPACK-IMA the following parties were present: 
ACMA, leader in the production of packaging machines in the consumer goods market, with two chocolate packaging machines for flat-base and round-base chocolates: the CW 800 and the CW 600. The company also presented for the first time the Material Gate, an innovative system for testing new sustainable materials in twist style, and the complete portfolio of eco-friendly packaging it has designed.
Atlantic Zeiser, a company specializing in inline printing, presented the Digiline Vario, a new system for direct printing on flexible materials, which delivers significant benefits of just-in-time printing and customization for the wrapping of all packaging formats. The Digiline Vario is designed to ensure flexibility and agility in packaging operations, drastically reducing time to market.
CITUS KALIX, a company specializing in packaging machines for the cosmetics sector, with the KP 600 EVO cartoner. Completely renovated, compact and automatic, this easy-to-use machine is capable of handling pharmaceutical products, fragrances and delicate cosmetics at 60 strokes per minute. The tool-less format change system is simple and fast, and can be executed by any operator, regardless of their level of competence.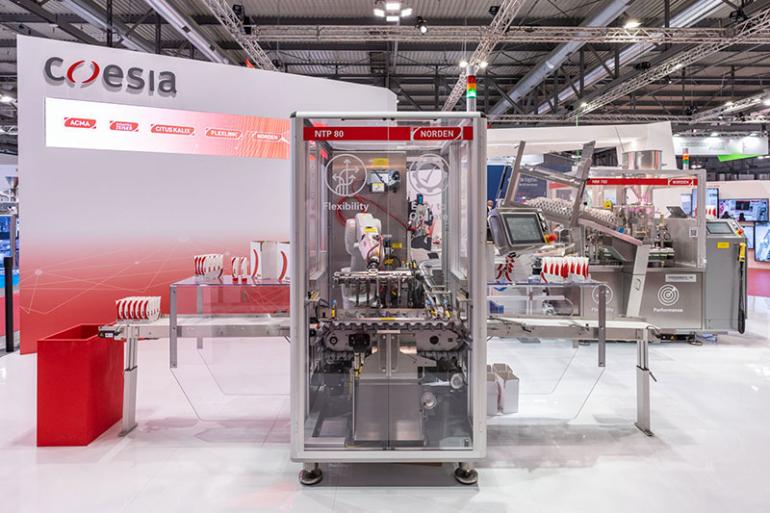 Norden, leader in the supply of high-performance systems for the filling of pipes and the cartoning and packaging of pipes, with the NM702 tube-filling machine and the NTP80 machine for the packaging of trays. These solutions are designed for an increasingly dynamic market in order to enhance production efficiency.
FlexLink, company specialized in handling solutions, robotics and production line design, with the RI20 industrial palletizer and the RC12 collaborative palletizer. Solutions that make production planning more flexible thanks to the fact that they are mobile, compact, easy to assemble and install and, when necessary, quickly moved. In addition, FlexLink demonstrated how fast and easy production line simulation is with the FlexLink Design Tool (FLDT) and how industrial automation can improve high-level pharmaceutical production as well as the efficiency of packaging medical products.
In the Coesia stand at Pharmintech the following parties were present:
GF, expert in turnkey solutions for the primary packaging of injectable drugs in vials, ampoules, cartridges, syringes and bottles, with the AV-E inspection machine: fully automated and developed to treat vials, bottles and cartridges filled with injectable solutions and lyophilized products. It is the ideal solution to meet the requirements of GMP (Good Manufacturing Practice) and to ensure that the products are essentially free of foreign particles. Through its extensive network of experienced technicians around the world, complete portfolio of products and services and continuous development of modern and customized solutions, GF supports customers in facing new challenges and in improving efficiency and quality of service.
HAPA, company specializing in digital printing for pharmaceuticals, with the new Web 4.0 5D, capable of implementing inline digital prints and constantly inspecting packaging materials for the pharmaceutical and healthcare market. The Web 4.0 5D delivers high reliability and print clarity with vivid colors as well as greater process control over a wide range of substrates on the web. With the Web 4.0 5D, printing and inspection are integrated to improve work processes, thereby reducing the number of operations, the risks of the validation stages, and installation and commissioning times.
Enflex, a Volpak brand, with the F-11, a machine that manufactures, fills and seals flat flexible envelopes specifically designed for the pharmaceutical industry. The F-11 is suitable for packaging a wide range of products, such as pharmaceutical powders, pills, medical devices, over-the-counter medicines, wipes and swabs. The machine on display has a new design for the protection and better accessibility of operators, ensuring the use of sustainable mono-materials instead of common plastics. The F-11 is equipped with a new dosing system to meet high levels of hygiene.
Sustainability remains one of the fundamental pillars of Coesia's strategy. The majority of the machines on display are already able to handle sustainable materials, such as paper films or mono-material films.
Moreover, a special area of the stand will be dedicated to the sustainability and eco-sustainable packaging offered by Coesia companies.
The Coesia Shelf of Sustainable Solutions offered new developments and more than 50 sustainable solutions for multiple applications.
 
System Electronics, a Coesia brand, designs and develops electronic products such as industrial PCs, I/O modules and industrial controllers, and operates in various sectors such as automotive, aerospace, aviation, infomobility, ceramics and intralogistics. System Electronics, in attendance in the Coesia stand at IPACK-IMA, has always been attentive to innovation, production flexibility and the development of advanced process technologies through its products: Copilot Industrial PCs, stepper motor drives and processors, such as CoreXpresse and the embedded PC equipped with extremely high computing power, capable of processing enormous amounts of data in real time.