Software solutions for automatic machines and the Smart Factory from COPA-DATA: seamless integration of OT and IT and process digitization with the zenon Software Platform.
Safety, high quality standards, operational efficiency and sustainability, understood as the reduction of energy consumption as well as materials. These are some of the challenges that the industry is facing and to which are added the new opportunities related to digitization and IIoT. The trend towards customization and small production batches is generating the drastic contraction of product innovation cycles and an increasingly rapid time to market.
Digitization plays a central role in defining the process control strategy: in the foreground, the search for ever greater plant flexibility and the introduction of innovative paradigms such as modular production based on MTP (Modular Type Production).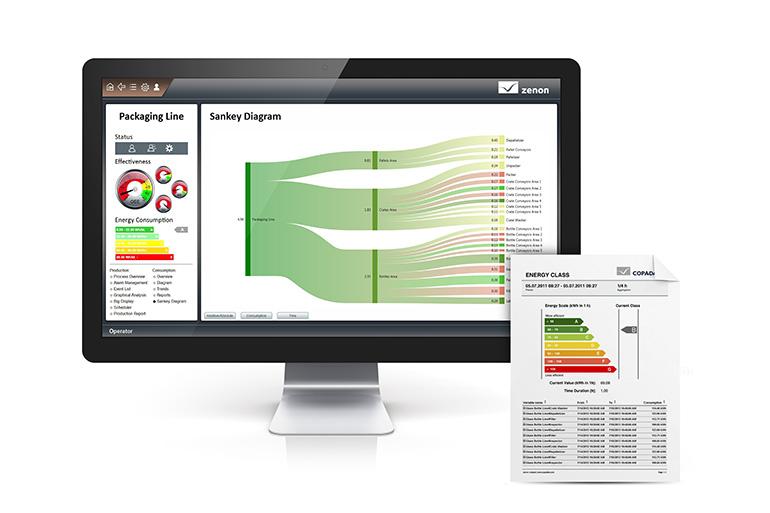 Seamless integration between OT and IT
Developed by COPA-DATA, the zenon Software Platform is a solution designed to automate, manage, monitor, integrate and optimize production machines and plants. Completely hardware-independent, it performs data collection and analysis, HMI, SCADA, Energy Data Management System, Building Management, Line Management, Automatic Reporting and Business Intelligence functions, integrating OT and IT and making users' digitalization goals a reality.
It is a highly collaborative software that does not require programming skills, but is designed to be easily configurable by the operator in all its applications.
Machine builders appreciate this software platform for the ease with which HMI applications can be created in a few simple steps, with a modern look & feel thanks to ready-to-use but freely customizable templates, with centralized libraries of intelligent symbols that save time during the design and maintenance of applications.
With zenon it is possible to supervise the machines installed at the end customers' premises, offer remote assistance and the continuous monitoring and analysis of data offers the possibility to avoid machine downtime and guarantee predictive maintenance.
zenon makes it possible to upgrade systems from manual data collection to digitized processes, with centralized monitoring that allows you to calculate Overall Equipment Effectiveness (OEE), identify causes of downtime and create automated reports, all thanks to its ability to integrate into existing systems even with obsolete equipment or third-party applications.