Sustainability in Food & Beverage: a question of excellent partnerships and innovation. Massimiliano Dell'Acqua, Head of Supply Chain & Sustainability McDonald's Italia, talked to us about this.
Maria Costanza Candi
ItaliaImballaggio has for some time been looking into the sustainability approach of large retailers who, more than other market operators, can have a significant impact on the environment if they make green-oriented choices in strategic sectors of their organization, from logistics to packaging.
The impact is not only direct, given the high numbers involved, but also indirect, given that these companies can orientate the choices of consumers by effectively providing a form of education on sustainability issues and on collective and individual strategies to apply from day-to-day.
The most famous fast-food chain, McDonald's, fits perfectly into this context; it's renowned to the point of becoming a financial unit of measurement for the price of a meal distributed throughout the world: the Big Mac index. It's a popularity backed by impressive numbers nationally, the company having 670 restaurants managed by 150 franchisees who, with 32,000 employees, distribute 400 million meals and 34 million cappuccinos to 1.2 million customers every day, 85% of its suppliers being Italian.
Massimiliano Dell'Acqua, Head of Supply Chain & Sustainability McDonald's Italia, tells us how a company with these volumes of business, product and packaging manages sustainability, a key aspect of all business operations.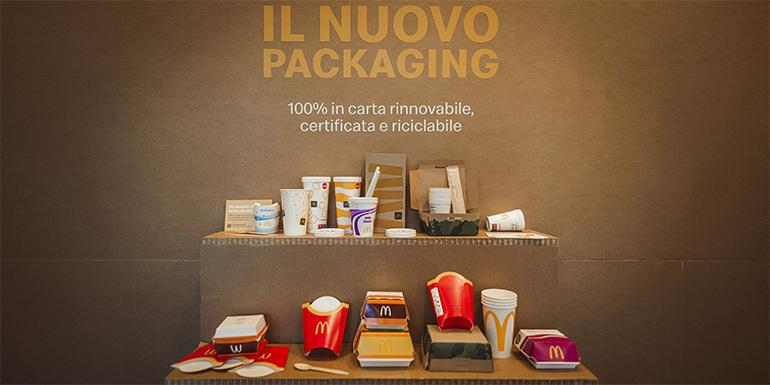 Institutional agreements and ties with the territory for the recycling and reuse of large volumes
The first question refers to McDonald's policy regarding the management of the huge quantity of packaging used in the restaurants, concerning recycling, reuse and sustainability.
On this point, Dell'Acqua starts by saying:
«Sustainability is central in the strategy of McDonald's Italia's which, as a large company, is aware of having considerable responsibility towards the environment and the territories in which it operates. Our commitment to the circular economy fits into this point of view, an approach that we apply day-by-day and in every action, from what we do in the restaurants to what we share with all the local contexts in which we operate. It's a step-by-step journey which, in the last few years, has involved considerable investments and a concrete effort to achieve significant results, starting from packaging. Since 2019, in fact, we have embarked on the gradual elimination of single-use plastic in favour of more sustainable materials, such as paper».
In terms of numbers, it should be underlined that today in Italy, around 90% of McDonald's packaging is in certified and recyclable paper and, by 2025, the company aims to make 100% of packaging recyclable. This choice has been made possible thanks to strategic partnerships with leading suppliers such as Seda International Packaging Group, but also Comieco and Utilitalia.
«The correct management of waste is an integral part of this virtuous path and is an objective that our restaurants pursue every day with great commitment and attention» Dell'Acqua continues. «To achieve it, we have for some time introduced a series of improvements inside our restaurants applied in synergy with 150 McDonald's franchisees to train employees on correct recycling practices. The partnership with Comieco should be seen in the context, as it has worked with us for several years not only in the implementation of procedures that favour the correct management of recycling, but also in continuously striving for virtuous practices. It's a partnership that certainly represents a concrete support for us and motivates us to always do more as a company».
Thanks to agreements with Utilitalia and Assoambiente, moreover, McDonald's constantly reinforces the management of waste in the territory; in addition, there are partnerships with some of the most important waste collection companies, set up with the aim of working with a collaborative approach in the various Municipalities. Of particular importance is the memorandum of understanding with Hera and Amsa Milan, which makes it possible to extend the company programme to the entire national territory.
Joining forces with consumers is fundamental
«As a large company - Dell'Acqua comments – we are aware that we can achieve significant results only by also involving our customers, who can be encouraged to adopt correct behaviour in everyday life. To this end, we have set up a partnership with Altroconsumo which, starting from an analysis of the context of our restaurants and listening to our employees and customers, has come up with a series of suggestions and indications useful for implementing good recycling practices, developing consumer-oriented educational communication materials which will be available – starting from October – not only in our restaurants but also on our app, on the social channels and on the website. Thanks to this project, we are becoming more aware of our own procedures and how to improve them, directly involving consumers».
Measuring impact with quality partners
To avoid greenwashing and to define effective ESG policies, the measurability of actions with or without LCA analyses is an increasingly necessary element, which McDonald's is working on at various levels, as Dell'Acqua once more describes:
«To measure the results achieved so far, and to have objective data from which to set precise goals, we are working closely with Comieco and with Seda International Packaging Group, two high-level partners with which we carry out product and scenario analyses, very useful for our ecological transition journey. The recently announced partnership with Altronconsumo fits perfectly into this discussion: the survey carried out inside a number of our restaurants has allowed us, in fact, to have a clearer picture of the recycling practices implemented in our stores and to plan concrete actions to train employees and raise the awareness of consumers on correct recycling practices».
Materials and regulations: the time for choices
Along with the high packaging volumes like those necessary to serve millions of products in a year, the issue of materials also becomes strategic, as the third question to McDonald's regarding its orientation with relation to indispensable plastic and cellulose underlines, in response to which Dell'Acqua continues:
«We are aware that plastic packaging is indispensable, in some cases, for reasons of safety and the correct preservation of foods. At the same time, however, we are committed to significantly reducing its use, wherever possible, aware of the great responsibility we have with respect to the environment. We want, in fact, to contribute, with our choices, to the replacement – wherever possible – of plastic packaging».
Talking of packaging inevitably involves reference to the Directive under discussion at EU level, which appears to push towards reuse which we know is difficult to apply, especially in critical sectors such as F&B, particularly if this involves direct contact with the public. It would, therefore, be interesting, given the quantity of products served in single-portions, to know what organizational consequences a large food operator expects in the event the terms of the recycling/reuse relationship remain the same.
«As a global company, we believe that a reflection on the development of sustainable packaging is very important» Dell'Acqua replies. «At present, in the markets in which we operate, most packaging is natural fibre-based, and is designed to be recyclable. With respect to the European Regulation, the hope is that "common sense" is applied, preserving virtuous recycling systems that function well, like the Italian ones, offering the possibility of applying alternative systems in those countries where this type of supply chain is absent. We are, therefore, in favour of "intelligent" legislation which produces positive results for the environment, strengthening existing infrastructures and promoting responsibility along the value chain».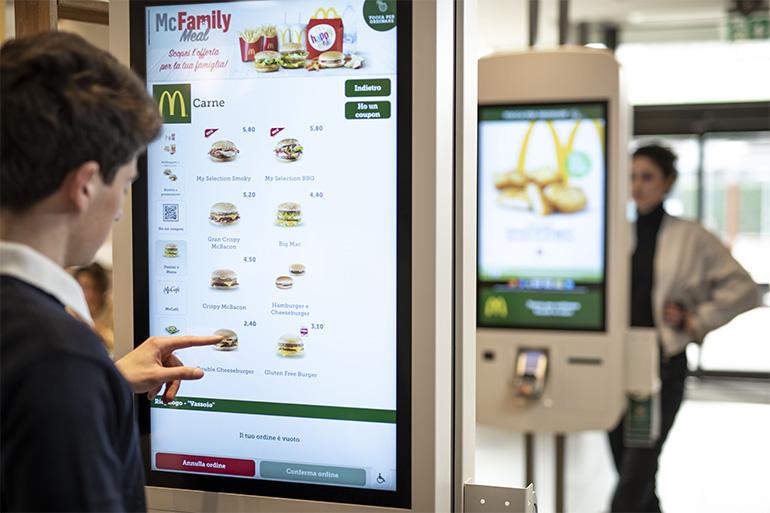 Supply chain control and packaging management: innovation pays off
In closing, there is inevitable reference to the innovative options adopted by McDonald's in the management of packaging and in supply chain control, regarding which Dell'Acqua concludes the interview talking, once more, of quality partnerships:
«McDonald's relies on partners who invest in technological innovations and innovative systems. Seda International Packaging Group, global leader in the food packaging sector, and not only, has, for example, designed the new Eco Fit Lid, an innovative paper lid for cups made of 100% PEFC-certified fibre, which allows us to save, every year, around 140 million pieces, the equivalent of over 250 tonnes of plastic, used to serve cold drinks at McDrives, with McDelivery and for take-aways. The introduction of the Eco Fit lid, which in 2020 won the Save the Planet category of the European Carton Excellence Awards and in 2022 the Best Packaging Award, therefore allows us to save water and to reduce electricity consumption, with consequent advantages also in terms of lower CO2 emissions ».