A food-grade barrier for precious chocolate truffles eliminates the use of plastic film and trays, and a packet of gin recounts a story of quality: two solutions developed by Metsä Board, examples of how collaboration can generate innovation in redesigning packaging characteristics, properties and functions, optimising resources.
Metsä Board's Excellence Centre, located in a unique bioeconomy ecosystem in Äänekoski, Finland, is an active collaboration environment for exploration, innovation and testing of new packaging solutions. Combining cutting-edge technology for R&D, packaging design and computer-aided simulations, the centre was established to speed up innovation in paperboard and packaging. Here a team of Metsä Board's experts co-creates solutions together with customers and partners that address the whole product life cycle, from material development to production and recyclability.
The co-creation process has recently led to two innovative packaging solutions for customers in the food and beverage industry.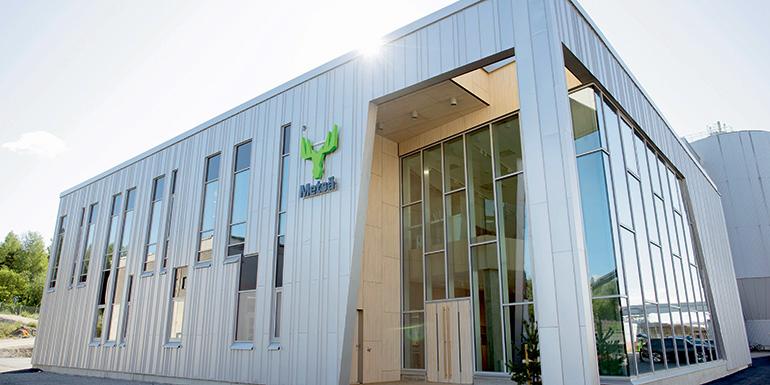 Keeping chocolate safe and fresh with less plastic
Chocolate is sensitive to light, heat and air. Traditionally, confections and truffles are packaged individually in plastic wrappers or into plastic trays within a box. With its new truffle packaging, Kultasuklaa, a Finnish company making handcrafted treats, wanted to reduce the use of plastic and thereby reduce the environmental impact of its products, without compromising the shelf life of its valuable ingredients.
In addition to reducing plastic, the chocolatiers wanted the raw materials for their packaging to be locally sourced and ethically produced.
«Many of the raw materials we use in our chocolate products travel to us from far away. Therefore it was important for us to be able to produce the packaging locally from local raw materials»
says Juri Kaskela, chocolate entrepreneur at Kultasuklaa. A barrier paperboard suitable for direct food contact (MetsäBoard Prime FBB EB) produced at Metsä Board's Kyro mill, located just 100 kilometres from Kultasuklaa's premises, was chosen as the material for the packaging. Due to its dispersion barrier coating, the paperboard has a medium-strength protection against grease and moisture needed for chocolate products. Therefore, no separate plastic parts were needed and the entire truffle package is now easily recyclable.
Hexagonal structure without wasted space
The hexagonal structure, designed by Metsä Board's partner CadPack, makes the package stand out on the store shelf. The distinctive shape was also intended to encourage consumers to buy the packaging as a gift. The new shape suits the round truffles perfectly and they can now be packed tightly without wasted space.
The truffles are also easy to store in their sales packaging, as the lid is easy to open and close. Different layouts were designed for different flavours. The hexagonal shape allowed for multiple printing surfaces. All the outer surfaces of the packaging were used and the mandatory food labelling easily found its place. The bright surface of the fresh fibre board led to excellent printing results.
The collaboration between several partners of different sizes resulted in a functional and distinctive solution that reduces plastic. «It was great to see companies of different sizes working together on this project. It felt good that Metsä Board also took smaller players like Kultasukla into account with its services» Juri Kaskela says.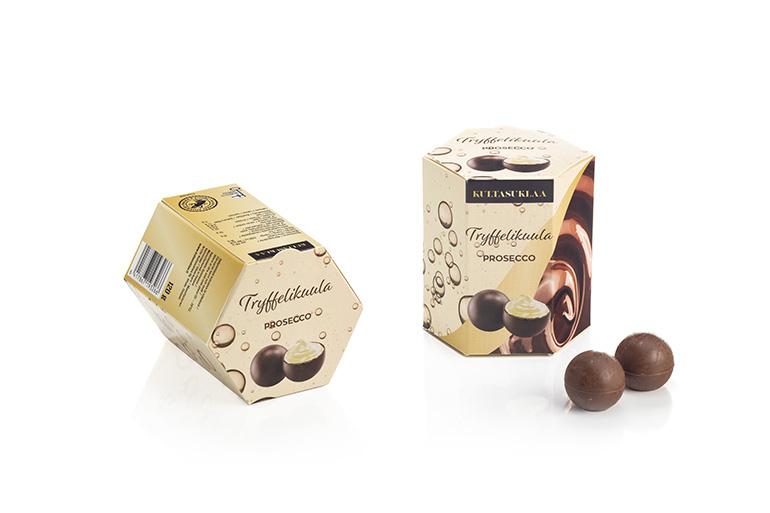 Getting a bottle to appear inside an ice block
1000 Lakes, a distillery known for their pure ingredients and commitment to sustainable processes, also collaborated with the experts of the Excellence Centre to find a new distinctive solution for the retail packaging of their artisan gin. The aim was to create a package that not only looks good and stands out, but feels different to touch and fits the values of the brand.
The product itself is made out of pure Finnish spring water, which inspired Metsä Board's Graphic Packaging Designer Marko Leiviskä to come up with a new innovative packaging design where the bottle would appear as frozen inside an ice block.
«The purpose of a retail package is not only to protect the product inside, but to tell a story about it. It needs to stand out, but it also needs to represent the values of the brand. We wanted to create a package that fits the purity of the ingredients of the product inside. A package that is interesting to look at and interesting to touch: an experience for both senses»
says Marko Leiviskä. A fully coated bleached paperboard (MetsäBoard Prime FBB Bright) was chosen as the material as it is light in weight and easily recyclable but offers great stiffness and excellent printability suitable for the special features needed. The printing was done at Markprint, a Finnish printing house specialising in UV-printing and sustainable printing methods.
The visual ice block effect was achieved with several different levels of printing done with UV printing on silver PET laminated paperboard. A white under printing was used, followed by CMYK colours and two layers of spot white to create the icy look. The frosty touch and feel was achieved with structural varnishing. Despite the impressive look and feel, the package is recyclable.