From DCM, a new concept of trays for the packaging of vials, syringes and flasks where paper, cardboard and carton replace plastic. A range of very flexible dedicated lines designed to meet different needs and increase productivity.
Since its foundation, DCM has been operating in the world of industrial packaging, developing technological and customized solutions for companies in the most diverse product sectors. But it is thanks to its specialization in paper folding - its historical core business - that DCM has developed a unique experience in the pharmaceutical field as well as a deep knowledge of the paper converting and graphic arts environments. The skills acquired, combined with uncommon R&D capabilities, have paved the way for the design of new packaging solutions, adapted to the evolution of the market with a view to sustainability.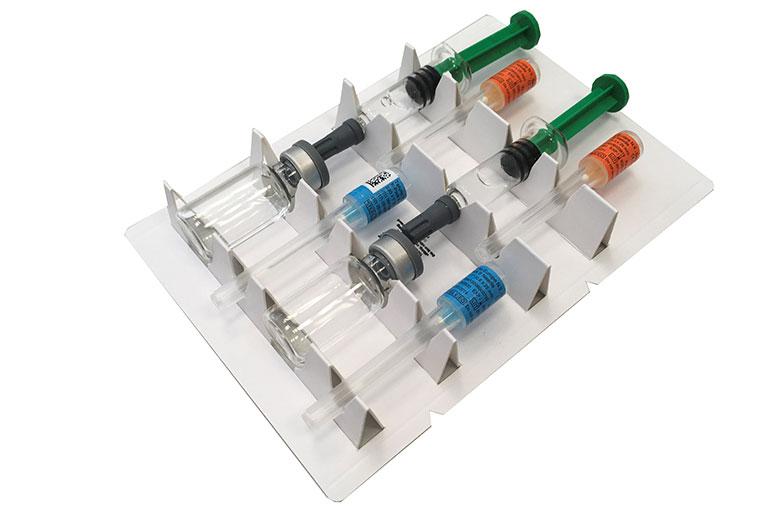 Alternative and efficient
The market's orientation towards the use of recyclable materials in the production of packaging is one of the significant changes that DCM's solutions are able to respond to, in addition to the design of ad hoc automatic systems for the dispensing and transport of products.
«DCM, in fact, does not "mean" only paper folding - explains the president, Alessandro Casiraghi - but also feeding and transport. We have therefore transferred our expertise in packaging to product dispensing as well, to increase the efficiency and productivity of our customers' lines».
DCM, with the collaboration of German company Kraus and IMA Group, has therefore studied a targeted and specific solution to create a newly designed cardboard tray to hold vials, syringes, bottles and other products typical of the pharmaceutical and food & beverage sectors.
«Flexibility and integration are the main features that distinguish the individual machines of the new Brava family, which guarantee the efficiency of the lines» continues President Casiraghi. «We have invested in research and development to obtain unique automatic systems to offer to companies that strongly believe in green packaging».
A range of modular solutions that can be configured to obtain totally customized machines and that allow to produce, through a coupling and folding system, trays that have from two to six rows of cusps in two different formats: 250×250 mm or 350×350 mm.
«Providing machinery to manufacture and distribute products in eco-sustainable material was and is one of our goals - concludes Casiraghi - and we will continue to work following this path, to offer our customers the best solution».