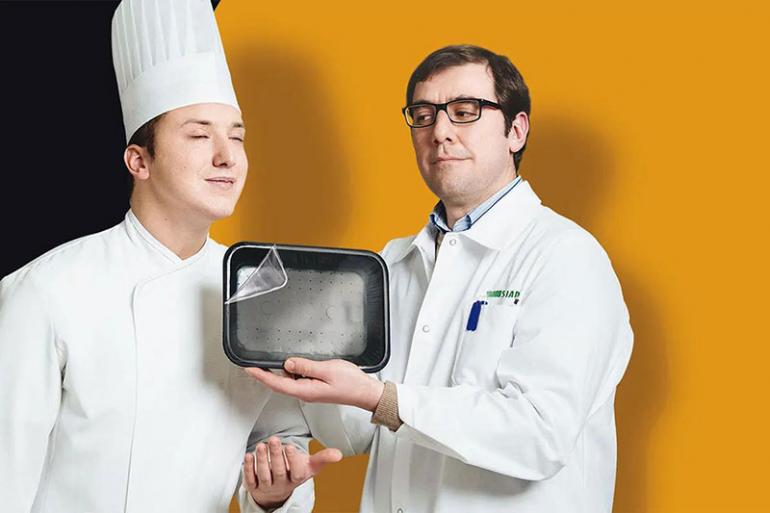 Aroma+ is an innovative food packaging system patented by Siad that maintains the desired aromatic profile of a protective atmosphere while enhancing the product's flavour and eliminating undesirable volatile compounds.
The mixture of gases and aromas minimises the presence of molecules responsible for unpleasant odours and enhances the quality of the food products while preserving their original appearance and fragrance.
The original range of mixtures designed for use in modified atmosphere packaging consist of a carefully proportioned combination of molecules from the air we breathe – specifically oxygen, nitrogen and carbon dioxide – along with natural flavourings to give the mixture an aromatic profile that is as close as possible to that of the packaged food.
Aroma+ mixtures ensure long-lasting protection of the organoleptic and nutritional properties of food products while preserving their flavours, aromas and colours.
Siad's patented line offers an unlimited range of aromas and can be used with any kind of food product. It is a simple technology that is easy to install and can be integrated perfectly into the production process of any food factory.
Aroma+ is complemented by Foodline, a solution for modified atmosphere packaging.
Foodline uses food-grade gases (nitrogen, oxygen, carbon dioxide and argon), which are introduced into the packaging either individually or as mixtures in order to block or reduce the enzymatic, biochemical and microbial degradation of products. The Foodline gases and mixtures are supplied in 14 or 40 litre pressurised containers fitted with pollution control devices and designed exclusively for the food market.
Siad products allow production processes to be planned more efficiently, resulting in lower costs and less waste as well as higher levels of quality and safety.