Original visual and tactile effects on really unique labels
During Packaging Première, Grafical, the company founded in 1984 in Marano, in the heart of Valpolicella and specialised in adhesive labels for the wine sector, issued a special edition of a newspaper titled "Press review", with the objective of updating its numerous customers on the company's new developments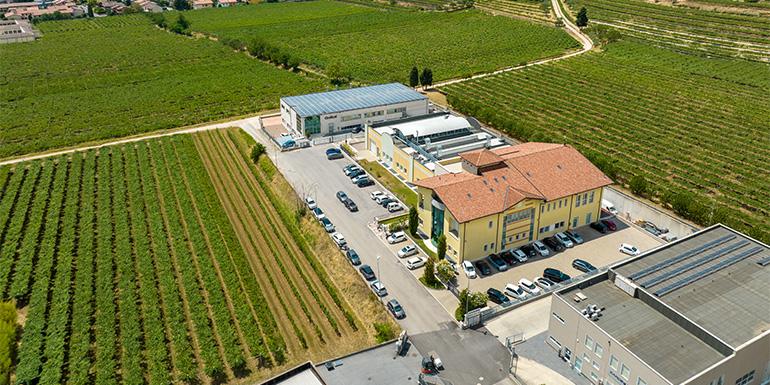 Welcoming us at the stand were Anna and Sebastiano Lonardi, two young and dynamic young people representing the second generation of the company, who outlined to us the main innovations. First of all, the brand new 50x70-size sheet offset Heidelberg Speedmaster XL machine, which has replaced the Speedmaster CD74, guaranteeing even better performances thanks to a spectrophotometer in the line and even more impressive printing speed and capacity, and to which is now added great attention towards the consumption of the materials. The new model has been equipped with an innovative system that permits the recovery of the foil, limiting use of material only to the finished area.
«The possibility of printing on the silver foil with the four-colour process offers a wide palette of colours », explains Sebastiano Lonardi. «Coldfoil, already present on the previous machine, has been a flagship of ours since 2008. Working in the world of wine, we have always preferred sheet offset machines because they are very versatile in the management of the media. We were pioneers in digital printing, installing in 2008 one of the first web-fed HP Indigo printers and last year we invested for the first time in a flexo printing machine, a Nilpeter FA-Line, with a configuration designed ad hoc for us, which ensures high quality results in large print runs. Besides the five flexo units, there are is also a hot foil unit for hot lamination with relief and bas-relief, an inkjet unit for high thickness coating with UV Led drying and a die cutting module for shaping. The use of natural papers allows us to give added value to the labels and we are experimenting flexo printing also on these media which are in great demand in the wine & spirit market, with print runs exceeding 100,000 labels. We have seen that the yield of flexo printing on some natural papers is truly excellent».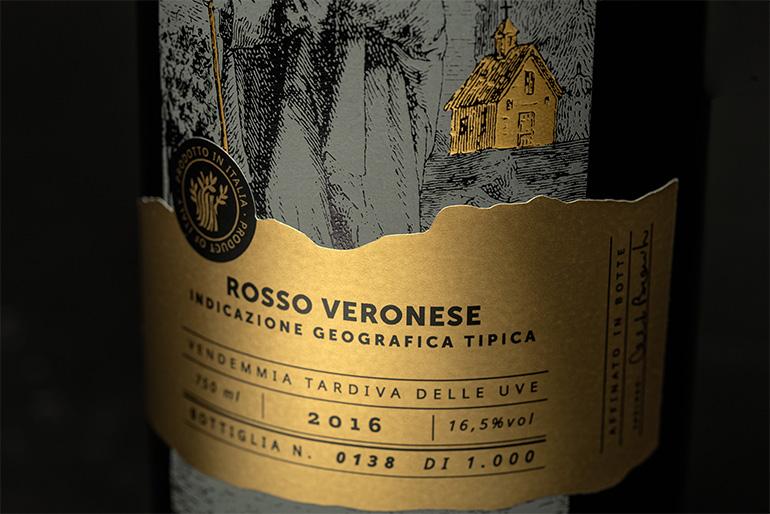 For some years now, Trustseal Spatial FX technology by Kurz has also been present in Grafical, forming part of the Trustconcept line and which consists of a unique technique which creates three-dimensional effects through optical illusion. The labels are thus enhanced with personalised and innovative holographic effects.
«We are one of three printing companies in Italy to have the technology to print this type of hot foil which has been developed by the parent company according to specific patterns and applied in register with a module for hot printing with customized optical control», explains Anna Lonardi with a certain amount of pride.
One service offered by Grafical is high quality overprinting of labels, to update information, such as the date of production or technical data, without having to reprint the entire label. Certifications are another element of pride for the Vento company: since 2012, it has obtained FSC certification to guarantee the customer that the paper used comes from controlled forests and since 2015, BRCGS Packaging certification to certify the safety and quality of the materials intended for contact with foods. One trend which is making headway, especially in the wine & spirit sector, is the multilayer adhesive, obtained by laminating different materials to obtain original and tactile visual effects. Grafical's technology enables the laminating of different media (paper with paper, plastic with paper, etc.) and the production of unique labels. In addition, brand protection to protect the product from possible counterfeiting, today can be obtained without sacrificing on style and design.
Also in this field, Grafical combines its cutting-edge technology capacity with partnerships with suppliers of selected materials to offer anti-counterfeiting and anti-tampering labels, packaging and adhesive seals. The solutions, developed on the basis of customer needs, can integrate micro-texts, special inks and holographic effects to create exclusive and non-reproduceable designs with technologies widely available on the market.
Since 2019, however, Grafical has no longer limited its activities to the printing of adhesive labels.
As Anna Lonardi tells us, in fact, in that year the company acquired 50% of a paper-converting company. «It was a contractor of ours with which we worked well. Now we produce uncoated laminated boxes, and carry out die-cutting and gluing and other processes. Our idea is to combine the label with a box, in sectors such as cosmetics.»