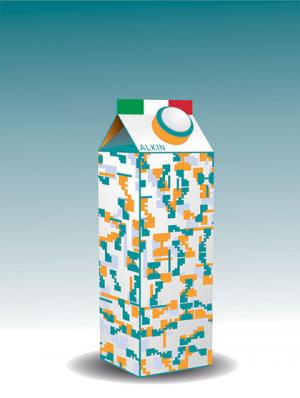 Andrea Alkin Reggioli was born in Dobritč, Bulgaria in 1990. He attended art school, studied drums and played in a band.
After graduating, he enrolled in the degree course in Painting and Visual Arts at N.A.B.A in Milan.
He is dedicated to seeking a personal expressive language in the field of visual arts, which better represents her inner world.
During his artistic activity, he has participated in numerous collective exhibitions, with works and performances. Among the most recent we cite:
2015 "In Divenire Blackout", Milanoltre Dance Festival, Teatro Elfo Puccini, Milan.
2015 "Vetem Tani Arrjj Ta Kuptoj", Albanian Pavilion, Venice Biennale.
2015 "Aequilibrium," Museo del Design 1880-1980, Milan.
2019 "Fundamentals," DanceHaus by Susanna Beltrami, Milan.
2021 "Banksy Chi?!", Spazio 2, Piacenza (art collective).
2022 "Vagues D'amour", Spazio 2 Piacenza (dance performance)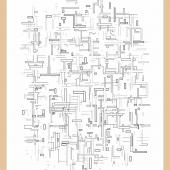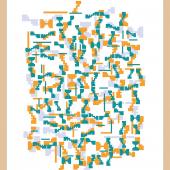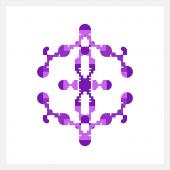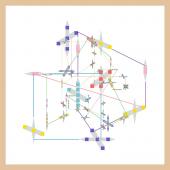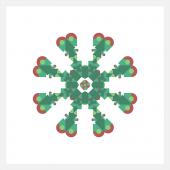 A word from the artist
My artistic research stems from a deep creative crisis. My high school education, with copying objects, landscapes and nudes from life, was not very effective in expressing my inner experience. Inded the intangible realities - emotions, feelings, moods related to the passages of life - were overwhelming. I felt the need to create a personal visual language that interacted with other languages, particularly music and dance, in order to create a multi-sensory environment that would capture the viewer's attention and introduce them to the depths of my being.

In research, the act of observing is fundamental and the analytical observation of reality, with its objects, images and forms, has led me to operate processes of reduction to the minimum terms in order to define the primary elements, which correspond to the letters of the alphabet of the new language. But it is the written codes, such as drum scores, that really fascinate me: the lines, shapes, dimensions, configurations demonstrate a great formal potential. The musical code undergoes a long series of alterations with the formation of essential visual forms, successively inserted into load-bearing structures, which give sense and order. The preservation of the original values of the notes allows me to initiate musical research. I create links and bridges between the visual forms to obtain paths that I convert into musical tracks of a rhythmic type, the foundation for the development of melodies and original soundtracks. The paths become choreographic maps used by the choreographer to create dance sequences, in a perfect correspondence between graphic sign, sound and movement.