GS1 Italy's strategic plan is built on four pillars: sustainability, digitalisation, traceability, and collaborative logistics, as detailed in the recently released 2022 Annual Report, summarised below.
GS1 Italy's 2022 Annual Report outlines a year marked by new challenges and continuous transformation, therefore highly significant for the association that represents GS1 in Italy, the non-profit organisation that develops the world's most extensively adopted standards for business-to-business communication.
A year unlike any other
Amidst significant global changes, adaptation measures and new challenges, GS1 Italy has continued to address not only the present but also the future of mass consumption in Italy.
One notable proposal is the "New Consumer Code", a research project that introduces an innovative classification system for Italians and their consumption patterns. The system is based on the concept of a "community of sentiment", creating new categories that describe consumers according to needs, affinities, attitudes and prevailing passions. This work changes the way we look at Italians, and GS1 Italy has made it available to everyone.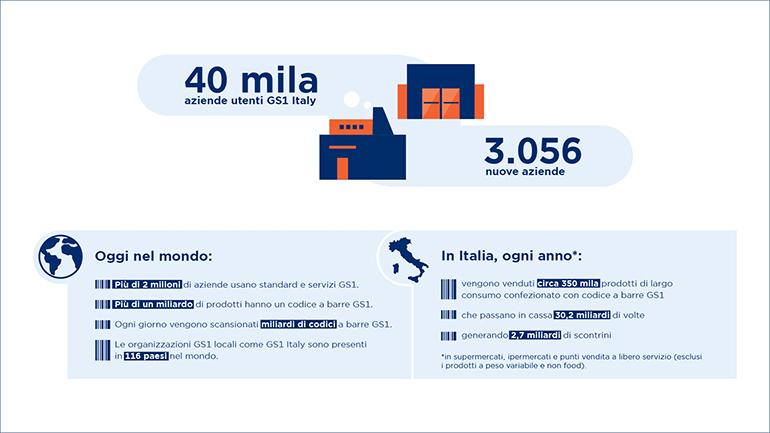 International Classification and Sustainability
The Annual Report also summarises the outcomes achieved through the solutions and services offered by GS1 Italy to the business community. These include various tools related to sustainability and digitalisation, which are two areas of our current focus. For example, "Immagino" is a service that streamlines the process of creating digital twins of products. It has been adopted by 6,211 users (a 9.9% increase compared to 2021), resulting in over 134,000 products being digitised (+3.4%).
On the other hand, "Codifico" enables businesses to generate and manage GS1 barcodes for their products. Over the year, more than 443,000 barcodes (+53.3%) have been generated by 5,607 businesses (+13.0%). Then there is the "GS1 Registry Platform" which has 510,000 products registered in the global registry. It aims to disseminate seven critical pieces of information about each product, including the GTIN, brand, description, URL of the product image, standard Global Product Classification, net content, unit of measurement, and marketing country. In terms of sustainability, there is "Ecologistico2", a tool designed to measure emissions and guide businesses in making conscious and beneficial choices that help reduce their environmental impact. This tool has already been adopted by 15 companies, including manufacturers (Barilla, Bauli, Campari, Carlsberg, Eridania, Fater, Ferrero, Lavazza, L'Oréal Italia, Mondelez Italia, Nestlé Waters, Procter & Gamble, Unilever) and distributors (Conad, Coop Italia).
Sustainability is also the focus of the "Circol-UP" tool, which enables companies to measure their circularity performance in order to improve processes, reduce waste, and develop innovative business models and collaborative systems. This tool involves 23 companies, including manufacturers (Artsana, Auricchio, Barilla, Bauli, Esselunga, Fater, Ferrero, Marchese Antinori, Mondelēz Italia, Nestlé Italiana, Panzeri Diffusion, Parmalat, Prealpi, Procter & Gamble, Sutter) and distributors (Bennet, Conad, Decathlon, Despar Italia, D.it - Distribuzione Italiana, Esselunga, Metro, Realco).
Read more in "Facts and data"