Growing data, driven by domestic demand and exports for the Italian cosmetics market, which confirms its intention to invest in new machinery even in times of uncertain planning.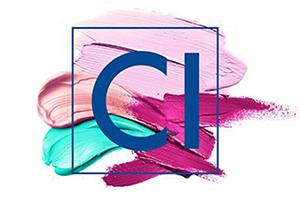 It is a sector that is not slowing down that of cosmetics, with global sales estimated to exceed 13 billion euros, growing not only compared to 2021 (+10.7%), but also in comparison with the pre-pandemic period (+8.3% compared to 2019).
This is what emerges from the report presented by the Centro Studi of Cosmetica Italia in its Economic Survey of the first half of the year 2022, which photographs the dynamics of a sector defined as "anelastic," that is, able to withstand the most adverse circumstances. The recipe that has led to these results are investments on strategic levers and a constant tendency to innovate, which consumers recognize by continuing to consider beauty an indispensable element in their lifestyle. Compared to 2021, the Italian market is worth a total of 11.4 billion euros, or +7.6% with consumption growing compared to 2019, although the positive trend is not a phenomenon limited to national borders.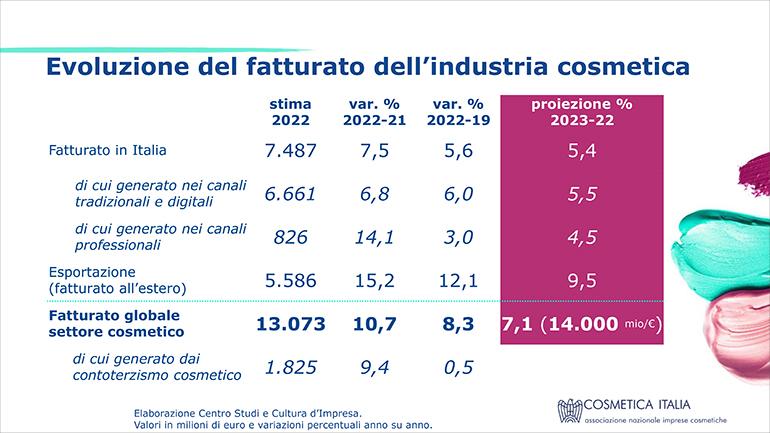 In 2022, exports contribute 5.6 billion euros to the overall result, an increase of more than 15% over the previous year. The top destination market is the U.S. with +44% worth 330 million euros, followed by France at +13% with 297 million and Germany, which, although down 0.6%, is worth a total of 231 million. In non-EU markets, China grew 85.9% worth 80 million euros and the United Arab Emirates at +54% and 113 million. One negative note, the impact of which will be measured over time comes from energy supply costs, which have in fact tripled. The percentage change between 2021 and 2022 stands at +330% with an average impact of the energy component on the cost of production of 86% and an average increase in production costs of +4.2%.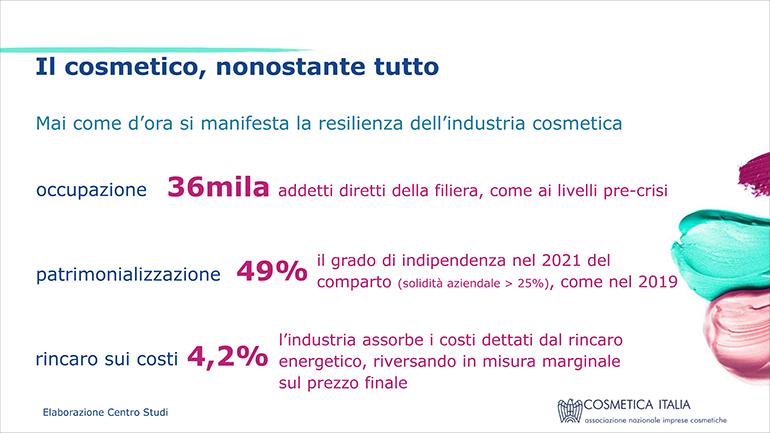 Distribution channel trends
The post lockdown opens up new consumption habits, first and foremost multichannel, which is increasingly popular as a marketing strategy by companies, thus combining traditional and online channels.
By 2022, selective perfumery will regain its pre-pandemic position, ranking second among sales channels, with positive rebound at +15%; professional hairstyling and beauty channels - heavily affected by health restrictions - are also expected to grow at +14.3% and +11.4%, respectively.
As for e-commerce, it consolidates the privileged role of online platforms and plays a driving role in the domestic market trend, with growth expected at +12.3%, which places it in fourth place among cosmetics sales channels in Italy.
Large-scale retail, the main distribution channel for cosmetics with a share of more than 40%, will end the year at +5.4%, while pharmacy, on which the repercussions of Covid have weighed less in terms of attendance, will record +3.4% placing it third among distribution channels.
The speed of recovery in direct sales (door-to-door and mail order) is slower, for which a +1.7% is expected; on the other hand, herbal medicine is almost stable (+0.2%), for which the recent surveys on cosmetics with natural and sustainable connotations point to wide margins and potential.
In closing, a reflection on subcontracting, which projects a 2022 closure at +9.4%: although difficulties remain in the planning of production batches and in the medium- to long-term vision, the recovery of the foreign component of demand is a sign that indicates good perspectives.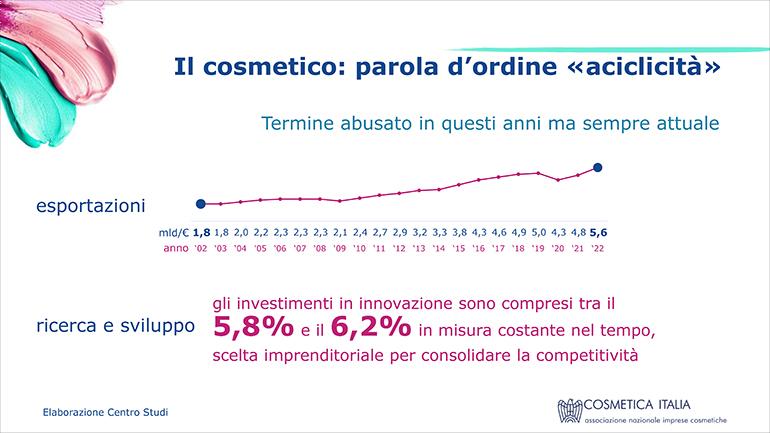 Read more in "Facts and data"