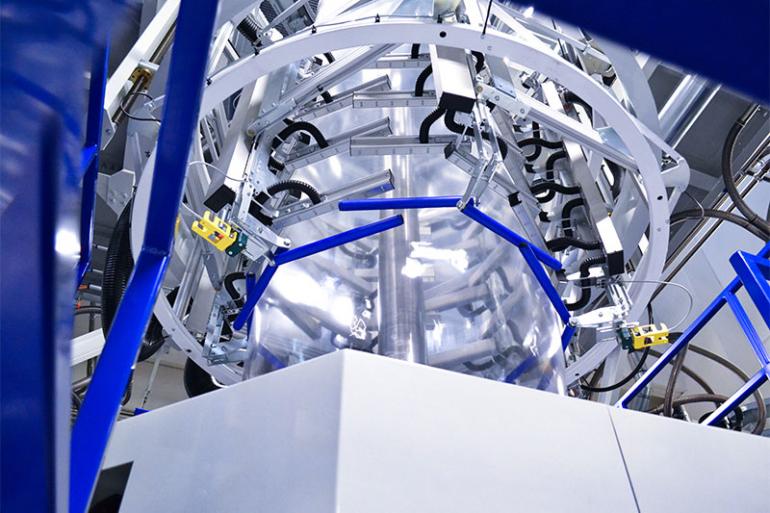 Environmental and economic sustainability also means having a 30-micron packaging film instead of a 50-micron one. Today it is in fact possible to save up to 25% of material - with GAP's 27-layer blown film extrusion lines - but there is still a strong fear of "change" on the part of converters and, above all, of the brand owners who make up the market. And yet, the road that passes through the reduction of material thicknesses and the improvement of their functional and barrier characteristics is inevitable: the word of those who know not only how to build plants, but also how to produce films.
Stefano Lavorini
All roads lead to Rome, they say... which, translated, for an entrepreneur sounds like: get to sell beautiful machines and have happy customers.
The road taken by GAP starts with engineering activities, passes through the design and construction of extrusion/blown film line (single, double and multi bubble) and then expands - taking inspiration from R&D activities - to the production of barrier shrink films for meat and cheese packaging.
Today, this path, which has allowed to combine knowhow and experience in the field of machines and materials, leads to the realization of a blown film plant equipped with a circular coextrusion head with microlayer technology and 9 extruders, for the production of polyolefin film with a structure up to 27 layers.
An innovation that promises - compared to the systems currently on the market - to offer considerable advantages, i.e. to produce more sustainable and more economical barrier films for stand-up pouches, tray tops, lamination, skin packaging and many other applications.
More layers, less costs
The multiplication of layers and the combination of different polymers with different viscosities and process temperatures in a single film results in a final product with superior mechanical properties and lower thickness. With the microlayer technology developed by GAP it is possible to improve the physical properties of polyolefin films and therefore reduce their thickness by 20-25%, as well as increase the content of recycled polymer.
In this way, costs are reduced, using less material, and there is a saving on the CONAI contribution and the upcoming Plastic Tax.
A good result, then, perfectly in line with the growing attention to the sustainability of packaging.
And the fact that this is not just a nice idea but a concrete reality is demonstrated by the plant in operation at the company's R&D center in Trecate (NO), where it is possible, thanks to the 3 special feed blocks, to create unlimited film formulations, alternating up to 9 different types of polymers in a sequential or alternate manner.
Among the many advantages, the reduction of the thickness of the barrier layers (typically EVOH) in order to obtain recyclable packaging, but also the realization of biodegradable, compostable and marine-compostable structures.
On the other hand, if on the one hand there is much talk of circular economy, of reducing the weight of packaging and its (industrial) recyclability, of reducing energy consumption and CO2 emissions, on the other hand there is no doubt that there is still much to be done to change approach and way of looking at one's business. Which, obviously, is easier said than done.
Yet good reasons, as in this case, do not seem to be lacking.
The challenge is to overcome the resistance to change that is inherent in human nature: for converters, this means promoting innovation among their customers, overcoming the logic of "price per kilo", and for brand owners, changing their purchasing specifications to improve their sustainability balance, spending less on packaging material.
Film life
It was 2004 when Graziano Bellini, Angelo Caporizzo and Giovanni Stocchetti, all managers with skills in the technical, administrative and commercial sectors, gained in companies such as Prandi, Polytype Italia, Polytech and Nextrom, decided to set up on their own and try their hand at business, opening an engineering activity in San Pietro Mosezzo (NO).
The founders of the GAP company were not lacking in experience, but it was certainly not a foregone conclusion to go from supplying spare parts and upgrading existing machines to designing and building innovative extrusion and blow molding lines.
In their story I recognize the respect for each other's skills, the enthusiasm for doing, the strength in facing difficulties and sacrifices, the original vision of the future.
The company, after its beginnings, soon moved on to design and build the first double-bubble extrusion plants for shrink-wrap film, thanks also to the trust and financial support of its first customers (by the way, Americans, Russians and Japanese).
For the founders, it was a return to the origins, but with new ideas and new projects: this is the case of double bubble plants with electron beam or cross-link, or, again, of non-standard dimensions such as the one of 4 meters range, with 35 meters high tower, for the production of OPP high barrier mono film.
After the inauguration of a new plant in Trecate (NO) in 2012, they decided to build a multi bubble, 9-layer extrusion blow-moulding line to carry on the R&D activity with the aim of developing the production of films for barrier shrink bags, intended for the packaging of meat, processed meat and cheese.
After solving some criticalities and finding the right formulations, they are now able to sell technology (machine+materials), but also to propose themselves on the market as producers of barrier materials. And just in consideration of this further direction of the business, in 2015 GAP obtains the BRC-IOP and Iso 9001:2008 certification. In 2016 the assembly of the extrusion lines was moved to a new plant in Mezzomerico (NO).
In 2019 the partners envision a further expansion of the production activity coming to design a circular co-extrusion head with microlayer technology. The following year, therefore, they realize and install in the R&D department the new plant for the production of 27-layer film.
This last important investment is now leading Bellini, Caporizzo and Stocchetti to rethink the future of GAP, which they see as increasingly focused on the construction of extrusion and blown film plants, as well as on the supply of knowhow.
As a consequence, film production will also be oriented towards engineering and research and development activities at the service of customers, who in fact can already experiment with new and personalised formulations at the Trecate plant.
(S.L.)
Read more in "Facts and data"