The recent report "Pharmintech Monitor 2022" produced by the MECS Study Centre on behalf of Ipack-Ima, describes the 2021/2025 trend of the global healthcare market, reserving ample space for the pharmaceutical sector and related packaging technologies. For the latter segment, in particular, projections indicate a growing business with ample development prospects on the various international markets (China in the lead at +370 million euro by 2025).
Worldwide healthcare spending (in billion Euro). Annual % variation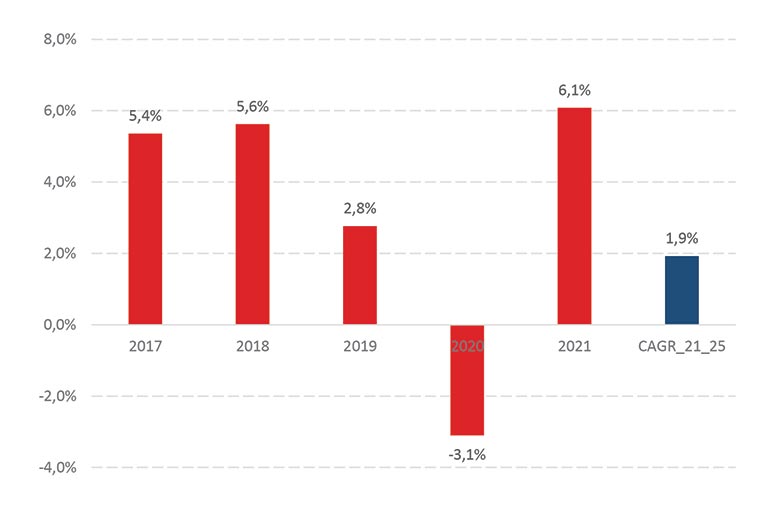 At the aggregate level, global healthcare spending now totals more than 7,560 billion Euro. After a marked contraction between 2019 and 2020, spending will begin to grow again at an average annual rate of 1.9% over the next four years, reaching 8,160 billion Euro in 2025.
The contribution to growth of the pharmaceutical segment stands out in a health market that is expected to grow at a rate of +1.9% between now and 2025, reaching more than 8,000 billion Euro in spending worldwide. After the +7.9% rate recorded in 2021 (1.113 billion Euro in value, with 78.3 billion Euro in vaccines alone) this segment will continue to increase by +3.9% per year, well above pre-pandemic forecasts.
Healthcare spending worldwide. % shares of the various components (pharmaceutical, nutraceutical, cosmeceutical, etc.)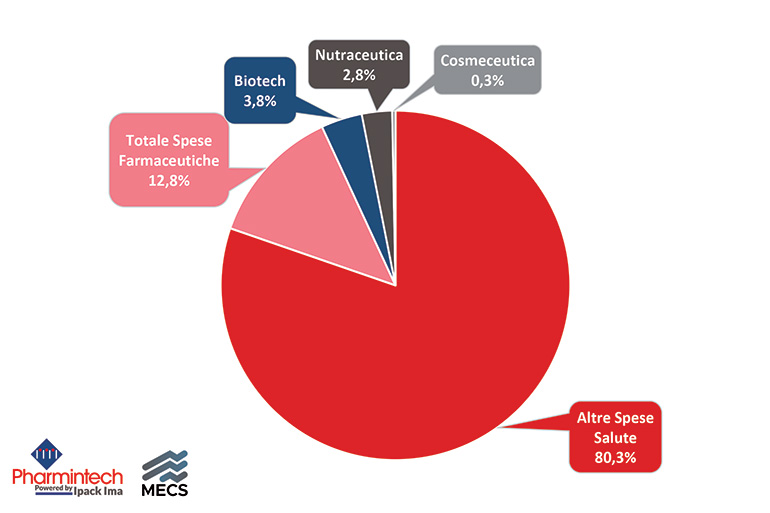 Between 2016 and 2025, the pharmaceutical sector will record - to include historical and forecast data - an overall growth of 66% worldwide.
This increase is driven by a series of countries, mainly emerging countries, which have doubled their volumes in the period under consideration (in Nigeria, the pharmaceutical market will even triple its value in the ten years analysed), among which India and Poland are those with the largest volumes.
Among the larger markets, Germany is the best performer with a cumulative growth of 73.4%, above the world average; the United States and China, the first two markets by volume, grew by around 20%, outperformed by Italy, which recorded an overall increase of 28%.
The three-year 2022-2025 outlook is excellent for all the other life sciences segments - which include Nutraceuticals (functional food and beverages), Cosmeceuticals, Biotech and Biomedicals - innovative and dynamic niches that, together, will weigh in at 1.980 billion Euro in 2025, with average annual growth rates close to double digits.
Overall growth of the pharmaceutical industry between 2016 and 2025. Overall % growth, by country.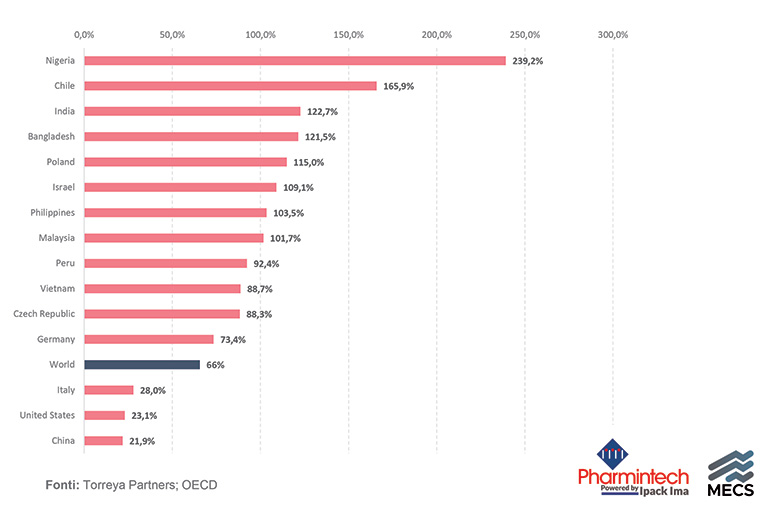 The expected evolution in processing & packaging
The growth in health care spending and the pharmaceutical market expected in the coming years will in turn drive demand for pharmaceutical and wellness processing & packaging technologies. It is estimated that the global Pharma technology market will grow over the next five years at an average rate of 5.2% per year to nearly 28 billion Euro in 2025.
Among the social dynamics that will have the greatest influence on technological change, it is worth noting, in particular, the sharp increase of the elderly on the total population (it is estimated that over-60 individuals are destined to rise from the current one billion to 2.1 billion people in the next thirty years). The increase in the geriatric segment will result in the prevalence of chronic diseases and this will not only increase the demand for pharmaceutical products tout court but will lead to the promotion of drugs that are easier to take, such as tablets, single-dose liquid solutions and extended-release patches, over parenteral (injective) drugs and/or drugs that require dosing by the patient.
The implementation of digital solutions goes hand in hand with investments in increasingly flexible and modular machinery for the processing and packaging of drugs, with an increasing replacement effect in the coming years of old standardised equipment for conventional production. Another factor that will have a strong influence on manufacturers pushing the production of on-demand customised machines are the regulations and certifications that pharmaceutical machines must undergo and that change from country to country.
Packaging machines: forecast 2021-2025 technologies (2025 figures mln Euro)
|   | Total 2021 | Total 2025 | CAGR 21/25 |
| --- | --- | --- | --- |
| Filling machines | 1,125.1 | 1,349.7 | 4.7% |
| Sealing machines | 123.1 | 152.1 | 5.4% |
| Fill Seal machines | 609.0 | 692.3 | 3.3% |
| Form Fill Seal machines | 1,396.4 | 1,685.2 | 4.8% |
| Cartoning machines | 497.8 | 590.2 | 4.3% |
| Avvolgitrici | 222.3 | 266.7 | 4.7% |
| Palletisers | 564.6 | 685.3 | 5.0% |
| Labellers | 544.2 | 603.9 | 2.6% |
| Manipulators | 208.8 | 253.5 | 5.0% |
| Inspecting machines | 1,080.1 | 1,272.8 | 4.2% |
| Other technologies | 212.6 | 296.7 | 8.7% |
| Total | 6,587.0 | 7,855.2 | 4.5% |
Forecast growth of pharmaceutical spending by macro area.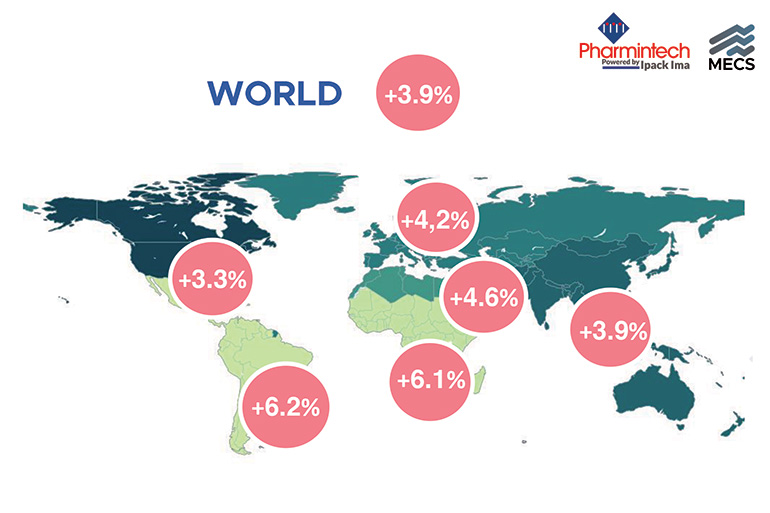 Packaging machines advance, CAGR of 4.5%
The world market for pharmaceutical packaging machinery amounts to almost 6.6 billion Euro, with a geographical concentration polarised between Asia and Europe. Central and South America and the Africa-Oceania grouping present a market of just over 300 million Euro. Markets in non-EU Europe are slightly larger: 400 million Euro.
Projected annual growth for the global pharmaceutical packaging machinery market is just under 4.5%, with peaks in Africa and Asia. The Asian market will lead the way, in part because of its size. This forecast is
consistent with both the now consolidated importance of China and India as pharmaceutical producers of APIs and/or on behalf of third parties, and with the progressive emergence of the so-called Pharmerging, namely countries, which, together with China and India, are rapidly becoming highly specialised in pharmaceutical sector production.
New business opportunities worth nearly 370 million Euro will open up in China between now and 2025 for pharmaceutical packaging manufacturers. Italy follows with over 180 million Euro of new market. Other significant market spaces will be created in the USA, Japan, France and Spain.
Packaging machines. CAGR 2021 -2025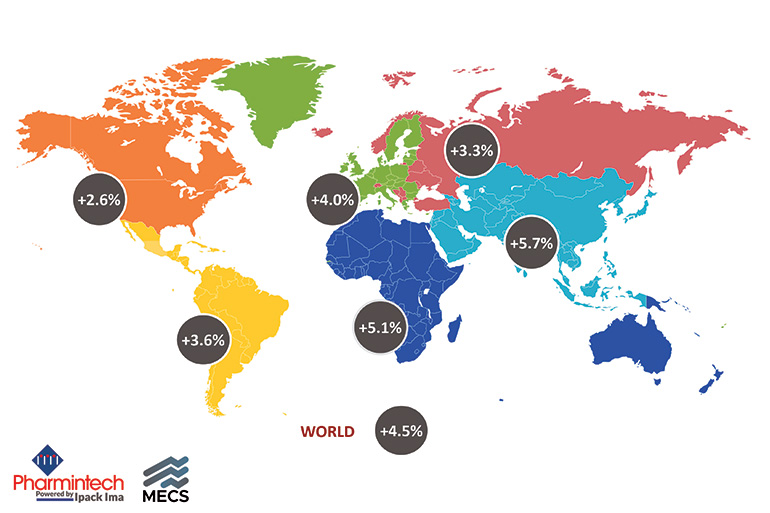 Closers, manipulators and palletizers: small markets grow
In 2021, the most dynamic pharmaceutical packaging technologies in terms of value were FFS machines (€1.4 billion), followed by fillers (with a market of €1.1 billion and inspectors (nearly €1.1 billion). From the perspective of expected growth for the four-year period 2021-2025, the first two categories will also show slightly above average growth rates (+4.8 percent and +4.7 percent respectively). The categories with the highest potential in the medium term, however, will be the small closers market (+5.4 percent, thanks to high market growth in the EU and Africa-Oceania), manipulators, and palletizers (both will grow at an average annual rate of 5 percent, with palletizers gaining new market space mainly in Europe).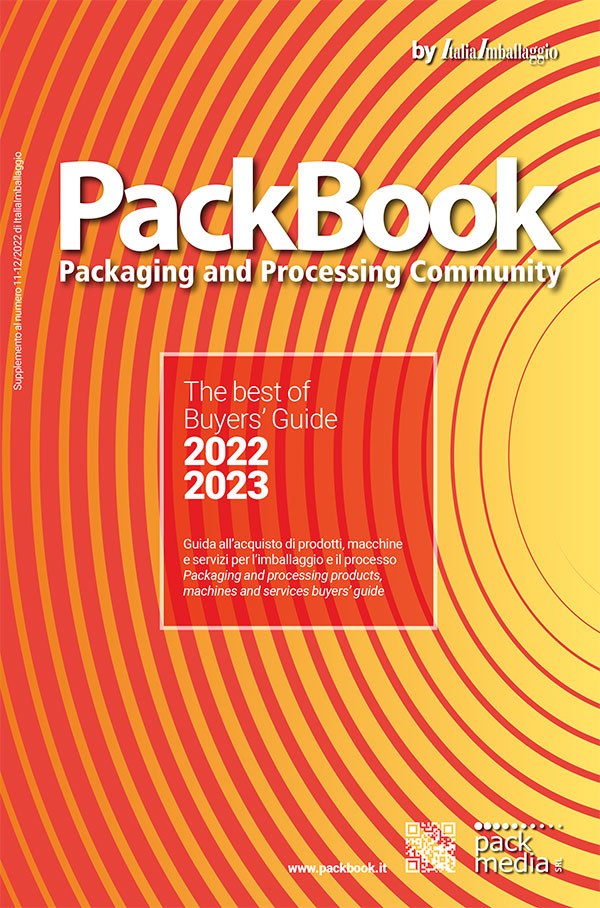 Find out more information about the companies mentioned in this article and published in the Buyers' Guide - PackBook by ItaliaImballaggio
Read more in "Facts and data"