According to the estimates of the European Pallet Association e.V (EPAL), after the 100 million achieved in 2021, the production of pallets has continued at a brisk pace, reaching a new record incorporating production and repair.
109.05 million EPAL euro pallets were produced in 2022, with an annual growth of 7.65 million of new elements in circulation, equal to +7.55%. After a significant reduction in use in the first half of 2022, which led to a consequent contraction of repairs, the trend reversed in the second half-year, with a positive trend also in this market segment. Looking at EPAL Boxes, moreover, after a growth of 66.7% in 2021 (288,000 pieces), in 2022 production increased significantly, reaching 340,400 pieces (+18%).
Over 650 million EPALs in circulation
The high quality of Sistema EPAL is a strategic factor for people's safety and for the protection of goods that pass through the logistics chain, without forgetting EPAL's long service life which allows for full functionality for a period which, according to a recent analysis, fluctuates between 6 and 10 years. The study, based on the analysis of an average use of 7 years, demonstrates that the EPAL pallets in circulation are as many as 650 million, thanks, in particular, to open pallet pooling.
Industry, retail and logistics can count, in fact on more than 500 licensees, part of the exchange system that includes 1,100 suppliers of used EPAL repair services. The network of license holders distributed throughout Europe is composed of a high number of professional repairers, permitting access to a vast network of services that guarantee a rapid delivery and limited transport distances, reducing the impact of any problems on the logistics chain also in the event of peaks in demand.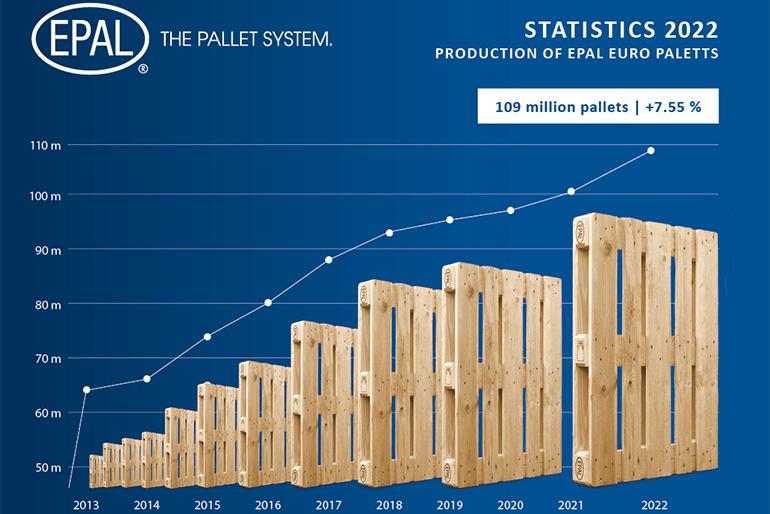 Read more in "Facts and data"