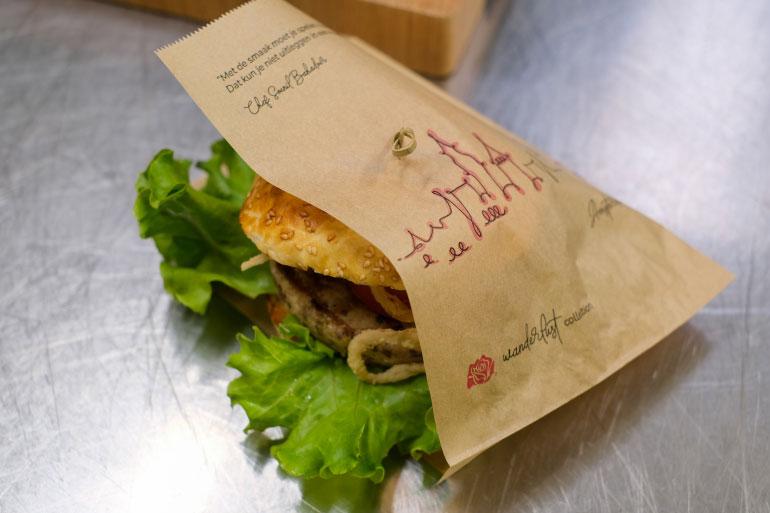 Paniké, Wanderlust Collection 2021
responsible | safe | contemporary | forward-looking | sustainable
What it is. Envelope made of grease-proof brown kraft paper designed to easily and safely pack, cook and heat different kind of food, such as sandwiches, toast, fried food. Paniké has been especially created to facilitate cooking on electric plates, in order to limit cross-contamination: the barrier effect of the paper prevents the transfer of both oily and protein substances,  including gluten, from the food contained in the package to the electric plate and vice versa.
Materials. Paniké is made of natural dye, anti-grease brown kraft pure cellulose paper consisting mostly of long fibres, certified for direct contact with any food. Carboxymethyl cellulose-based adhesive. Water-based inks for flexographic printing.
Product or target market. Paniké is a food packaging with excellent mechanical properties and it is suitable for heating food in the traditional oven, microwave and electric plate. It can be used in bars, diners, fast food, convenience stores, deli.
Design and/or communication. Wanderlust Collection represents the iconic skylines of the most beautiful cities in the world. These exclusive prints have been designed in 2021 by the Esseoquattro Graphic Office to enable people to travel, at least with their imagination, despite the limitations of the pandemic. The icons on the back of Paniké bag provide the final consumer with specific information on the use of the product, while the environmental label indicates the composition and suggested recycling methods.
Technology. The spread of celiac disease has led to the development of gluten-free food lines, but their consumption can be risky in case of cooking mode allowing or even facilitating cross-contamination phenomena. Cooking or heating food on an electric plate can be particularly dangerous for many reasons: cooking time, the type of contact surface, as well as for the pressure exerted on the food. The tests performed by the accredited laboratory have shown that Paniké bags allow you to heat all types of food on the same  electric plate, avoiding cross-contamination and therefore ensuring the safety of celiac consumers.
Sustainability. Paniké bags are made of brown kraft paper consisting of cellulose from PEFC certified forests. Its lightness and small dimensions optimize storage and decrease the number of freight vehicles in circulation.