The adapa Group has mastered the art of individually wrapping processed cheese slices with its high-performance films: Leif Elenius, TQM e R&D Manager, describes the ProPeel-IWS (individually wrapped slices) films, which combine low material thickness with high puncture and tear resistance and allow for maximum speeds on vertical flow-pack lines.
The individual wrapping of processed cheese slices, used for example as toppings for sandwiches or burgers, is a demanding business. adapa Finland Jakobstad, part of the adapa Group (formerly Schur Flexibles), one of Europe's leading flexible packaging manufacturers, is a specialist in CPP films and over the last two decades has become an expert in IWS (Individually Wrapped Slices) flow-wrap films for the hot filling of processed cheese slices. ItaliaImballagio spoke to Leif Elenius, TQM and R&D Manager, about this unique application.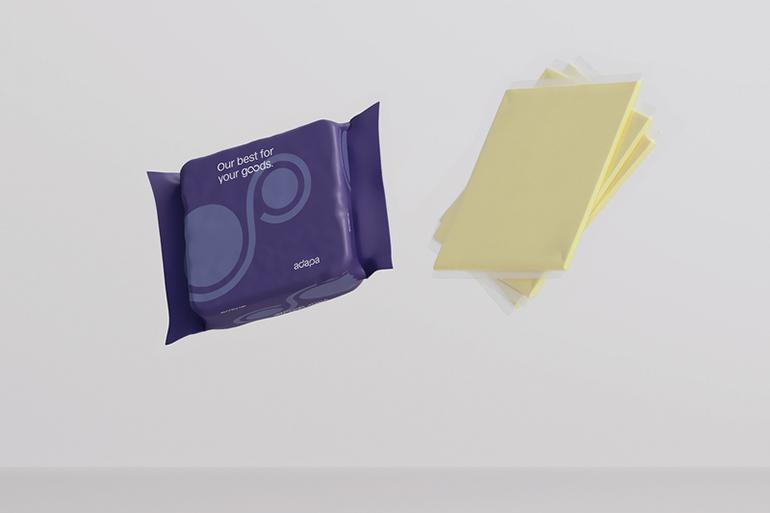 Mr Elenius, how should one imagine the packaging process of the individually packaged processed cheese slices?
The filling and packaging process takes place in one step using a vertical flow-pack system specially designed for hot filling. The film, which was specially developed for this application, is formed into a tube into which the processed cheese mass, which has a temperature of approx. 85 °C, is continuously dosed vertically. The mass is pressed into the shape of a slice, sealed and, depending on the type of line, either hot or - after cooling down in a water bath - cut into slices and ejected from the line. The individually packaged cheese slices are then transported in stacks of usually 10 or 15 slices via a conveyor belt to further outer packaging, e.g. as consumer packaging in a flow-wrap or in a cardboard box.
What makes this process so demanding?
The product is filled at around 80 to 85 °C and requires an extremely heat-resistant film. It must be possible to guide this film through the line at high speeds without any difficulties. The stability and quality of the material are of great importance here: if the film tears or has even the smallest of defects, the product contaminates the line and efficiency drops. Furthermore, it must be possible to fill the soft cheese mass precisely into the film tube and further in the process cut it into slices after it is packed in the IWS flow-wrap. Once in use, each individual slice should then be able to be easily removed from its film in a consumer-friendly manner. The art lies in developing the appropriate film recipe that fulfils all these requirements.
What aspects are important here?
There are many parameters that influence the optimal choice of film. For example, our R&D is intensively involved in the application process, namely whether the cheese slices are cut and sealed in a hot or cold state. The handling and product transport within the line is most important, for instance how the cheese slices are ejected from the line and stacked at the end. This is where the coefficient of friction of the film is a determining factor: some producers need a particularly smooth film structure to achieve a high output, for others the packed and stacked slices may stick together a little more so that the stack of slices stay in place when being transported to the final packaging.
What are the distinguishing features of adapa ProPeel IWS films?
We have been very familiar with the market and requirements in this segment for a good two decades and have developed and perfected our films specifically for this application. The ProPeel-IWS are multi-layer, co-extruded polypropylene films which, even with greatly reduced film thickness, manage the balancing act between enclosing the hot product and the shortest sealing times - also through contamination - as well as, enabling cutting through the film while it is still warm. We mastered this thanks to the combination of our specially developed sealing layer with a high melting point of up to 165 °C. Our standard films, which we have developed for this application are adapted to individual customer requirements, such as higher film rigidity. In addition to the films high-quality appearance due to transparency and printability as well as their excellent sealing and opening capabilities and properties, one of the most important characteristics is their mechanical stability: the films prove an extreme machineability and have a high puncture and tear resistance. This is essential for the efficiency of our customers' production.
Do you see a further development of the classic IWS flow-wrap application for hot fill in the future?
In recent years, we have succeeded in reducing the thickness of ProPeel IWS films from approx. 35μm to as little as 20µm. With the 20-μm films, we are approaching the technical limit. We are talking about process speeds with an output of up to 1,100 pieces per minute - that is a speed at which the cheese slices literally "fly" through the line and at which the reliability of the film is indispensable. However, the possibilities of this application are far from exhausted. Current testing is ongoing for other hot-filled products, e.g. pâté or chocolate, and we are always assessing our clients' needs and are very open to further ideas. Here, our company's own adapa rethink initiative drives us to revise all our existing products for current sustainability aspects and adapt if needed.
Thanks to this approach, we have already been able to achieve immense material savings for many of our group's customers. Not only does this conserve resources, but in the case of our IWS films, more metres of film fit onto one roll, resulting in a reduction of line downtime. In addition, the amount of product and packaging material waste that occurs when starting up the line is reduced. Also, more metres can be transported by truck load. We see time and again that our approach is successful - recently one of our largest customers rewarded us with the highest supplier rating.