Meypack's new cold stretch film wrapping machine
FW 200 is the name of the new stretch film wrapping machine made by Meypack, a leading German packaging manufacturer acquired by Aetna Group in 2022 and now one of the group's flagship brands.
As part of interpack 2023, the machine impressed visitors, offering multiple benefits, including reduced packaging materials, energy savings, a high level of competitiveness combined with flexibility and process optimisation, all characteristics which have always been part of the Group's DNA.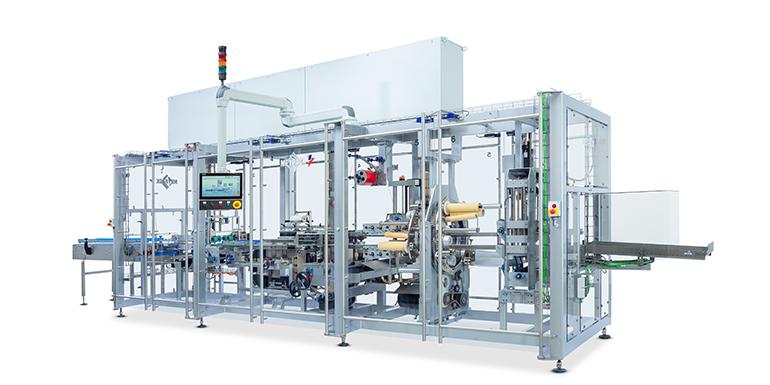 Energy saving
Specifically, the film wrapping system does not use heat, which means significant energy savings. Compared to shrink film, a 50% reduction in packaging material is achieved; the integration of a facilitated opening unit (perforation), with or without tear strips, ensures perfect process optimization; and finally, production flexibility is guaranteed by the ability to handle multiple formats.
Laser technology to higher speeds
Going into further detail, thanks to a calibrated use of film with a single width to suit all types of bundles, this solution can be equipped with a laser perforation system - the "Easy Opening System" - through which a tear strip of film is created during continuous wrapping. By bundling the product, which is done cold without additional consumption, the machine is capable of producing up to 50 bundles per minute.
Additionally, the Meypack FW 200 is equipped with an integrated bundle separation system that allows it to assemble, stack, and bundle products (lying flat and standing) at a rate of up to 300 pieces per minute. Depending on the requirements of the product and the strength of the bundle, the pre-stretched film (with an adjustable stretching ratio) can be easily adapted to best stabilise the product with the least amount of film usage, thus ensuring flexibility and efficiency. As a final note regarding the list of the main technical features of the Meypack FW 200, we would like to highlight the continuous cutting system with a thermal knife that allows for a very clean and precise separation of the packs. Once again, this new machine confirms the Aetna Group's commitment to cutting-edge technology with respect to sustainability and the circular economy.