All the nutritional information of a product and indications for recycling the packaging accessible from a single QR Code: the partnership between U-Label and Giunko has given rise to the first integrated digital label for bottles of wines and spirits.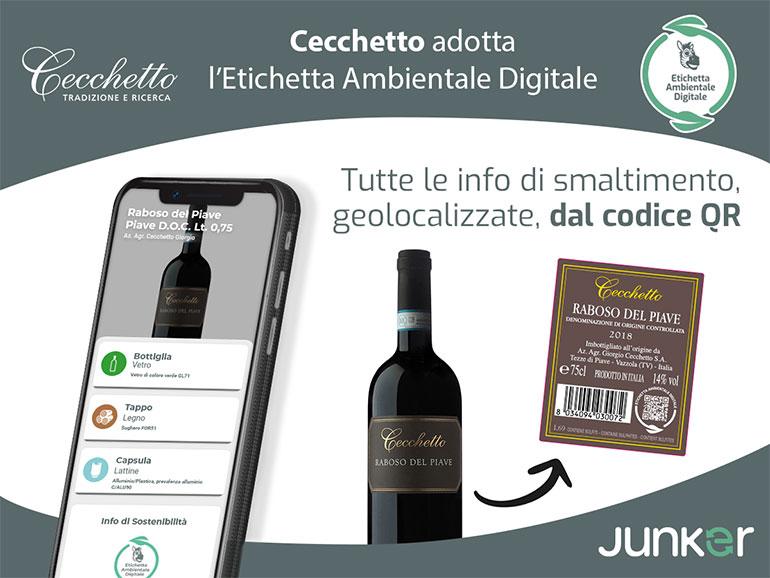 With the entry into force of the environmental labelling obligation, in Europe, Italy is already seen as a model thanks to the company chosen by the European wine supply chain to provide the digital environmental label to be put on every bottle of wine and spirit distributed in Italy from 1 January 2023. This news has been announced by the Comité Européen des Entrepises Vins (CEEV) and spiritsEUROPE, presenting the partnership with Giunko, the Bologna SME specialized in the development of digital solutions in the cleantech sector.
This is an important step forward for the wine & spirits supply chain with regards to transparency, which comes little more than a year after the launch of the U-Label platform, created to inform consumers on the nutritional characteristics and ingredients of wine and spirit products. Anticipating the provisions of the EU regulation on information to safeguard consumers, that project has now been enriched and completed with the adoption of the digital environmental label developed by Giunko.
The changes in the label required by the system are minimal, as a dynamic QR code, a gateway to a complete set of digital contents, is simply added on the bottles. Scanning the QR Code, consumers can, in fact, see in real time not only nutritional and ingredients information on the product, but also the components of the packaging, the materials and the abbreviations of each component and their correct disposal based on the rules of the Municipality in which the QR Code search takes place. The digital option developed by Giunko includes, moreover, the possibility of "geo-localising" the information and providing it to users in as many as 12 languages.