Fashionable diets drive consumption, conditioning an entire industrial supply chain, from process to packaging. This is what emerges from the case history that saw two Italian brands - Cama and ICAM - co-starring in the success of an international project, inspired by veganism and paleo-diets. Taking center stage: technological innovation, eco-design and sustainability.
Luciana Guidotti, Costanza Candi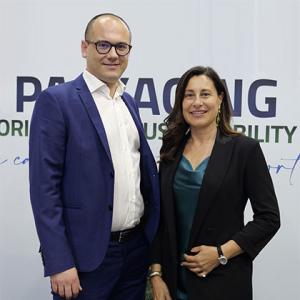 In an IPACK IMA crowded with visitors, CAMA's booth is an opportunity to learn about the technology on display at the fair and to highlight projects that are particularly innovative in their ability to combine technical answers to the demands arising from new lifestyles and consumption.
In the limelight are the product, its unaltered quality, shelf life and sustainable packaging solutions that play, in this context, a role as a glue between marketing and technology. A successful formula made possible by CAMA's research and partnership with a confectionery industry that has made history in the sector, ICAM, a chocolate manufacturer based in Lecco, Italy.
Italiaimballaggio talked about it with Annalisa Bellante, Vice President of Cama Group, and Luca Agostoni, Production Manager of ICAM Cioccolato, who told the story of a new product, developed for a very specific market segment, a declination of the vegan universe. A market driven by new trends in terms of lifestyles and consumption, capable of inspiring new solutions in food & packaging design that, as is often the case, also frequently involve major technological challenges.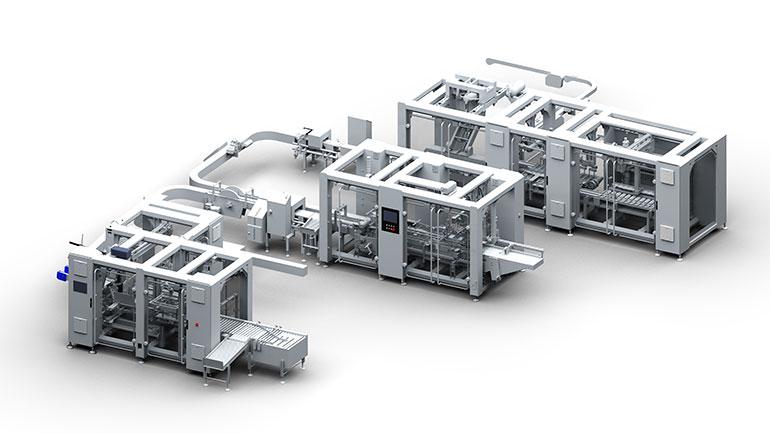 Paleo and vegan, between technology and sustainability
Faced with a market such as vegan and the demands of an international player, ICAM has deployed a unique expertise that sums up the tradition of quality with attention to the supply chain, the environment and innovation.
«We are originally from Lecco, but in 2010 we built a new fully automated plant in Orsenigo, so not far from the headquarters of Cama, our longtime supplier», says Agostoni, who proudly recounts the imprint his grandfather left on the family business.
«We have been producing high-quality chocolate for almost a century, following an ethical approach that has a positive impact on every stage of the cocoa processing cycle, from the bean to the finished product. That is why respect for people and the environment as well as a drive for innovation are the cornerstones on which our way of making chocolate is based, the quality of which starts precisely from controlling the supply chain.
Since the 1970s, which is when our president began traveling to the countries of origin of cocoa, our philosophy has been to create partnerships with local farmers. In Uganda, in particular, we have established a processing center, where farmers bring in their harvest and where we also support training programs to improve plantation yields and farming techniques, ensuring fair compensation. Here we also complete the first stages of bean processing (drying and fermentation), and then bring the cocoa to Italy.
In 2020, a U.S. client asked us to develop a very special chocolate bar, to which we combined our research on sustainable wrapping materials, building on what we had developed with regular packaging suppliers and involving Cama in the engineering of a complex packaging line.
We then researched and created a chocolate that would meet the dictates of the paleo-diet, a fast-growing trend in America in the wake of veganism, which calls for the consumption of absolutely natural, unrefined or unprocessed foods.
We are basically talking today about products without preservatives, additives and of course organic, like the chocolate in question, for example, which contains only unrefined coconut sugar».
Having achieved the desired result in terms of organoleptic qualities, ICAM proposed the product in a compostable flowpack - quite complex, since the product is in turn placed in a presentation bag - but consistent with the reasons and philosophy of a "paleo-chocolate" and, above all, able to meet the necessary requirements of fragrance, respect for shelf life, protection from bleaching and spoilage.
The flowpack is in fact made with a patented paper/biopolymer laminate. «Then having to deal with an extremely heat-sensitive product such as chocolate, even the sealing of the paper-based pouch was another critical point brilliantly solved, still ensuring optimal sealing».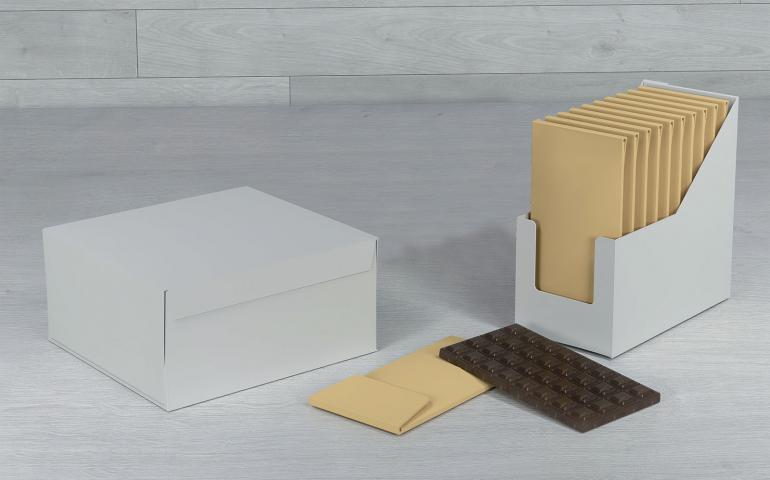 CAMA's intervention
Called to innovation and ready to face complex situations, CAMA manages to turn difficulties into opportunities for development and growth.
And in this case, too, it has been able to give consistent answers to its interlocutor: in fact, the packaging path of a product with such attention to detail responds to the logic of food protection and safety, to marketing needs but also to compliance with international standards of the logistics chain.
CAMA has therefore developed a packaging island, which involves 3 consecutive and related steps: the first concerns the insertion of the tablet in the paper bag with very tight tolerances, where the correct orientation of the product must also be foreseen; this is followed by the positioning of the flowpack in a display case, which is finally placed in a master case, necessary for the American market that requires certain types of transport packaging, to optimize the handling and logistics phases, particularly the loading of containers.
«The challenge taken up by CAMA was not trivial at all, because - explains Annalisa Bellante - from the tablet to the compostable flowpack pouch to the placement in the display and master case, the whole process is done on one line, without decoupling buffers.
To date we are talking about a prototype, but already solid and the subject of constant improvements both in terms of production and speed. A success also achieved thanks to the constant presence of CAMA technical staff on the ICAM production line».
Robotic and digitized lines, between sustainability and R&D
The return to trade shows in the presence of CAMA is characterized by a cross category approach, able to offer secondary packaging solutions to the most diverse markets, from backery to non-food, via confectionery. The technology at the show, prepared with an industry 4.0 package, is an integrated robotic solution with a food printer and a battery of 12 Triaflex robots operating in co-flow, capable of speeds of up to 1,000 products per minute. Anti-collision system, vision system, integrated digital twin and touch screen HMI complete the framework of CAMA's proposal.
During  2020-2022, CAMA has increased R&D activities, particularly of its automation department. «We allocated the investment to a machine designed to do all evolutionary testing and focusing efforts on Triaflex robots», explains Annalisa Bellante. «It was a thoughtful decision that proved indispensable to further improve the kinematics».
Complementing the Lombard manufacturer's offerings is a packaging consulting department that supports customers in finding the best technical solutions to deal with the complexities imposed by new-generation materials and packaging designed with a view to optimizing resources. The customer is thus guided in the choice or design of the machine, for example, to decrease the carbon footprint of the process and product, improve performance according to the chosen material, and solve technical issues related to sustainability choices.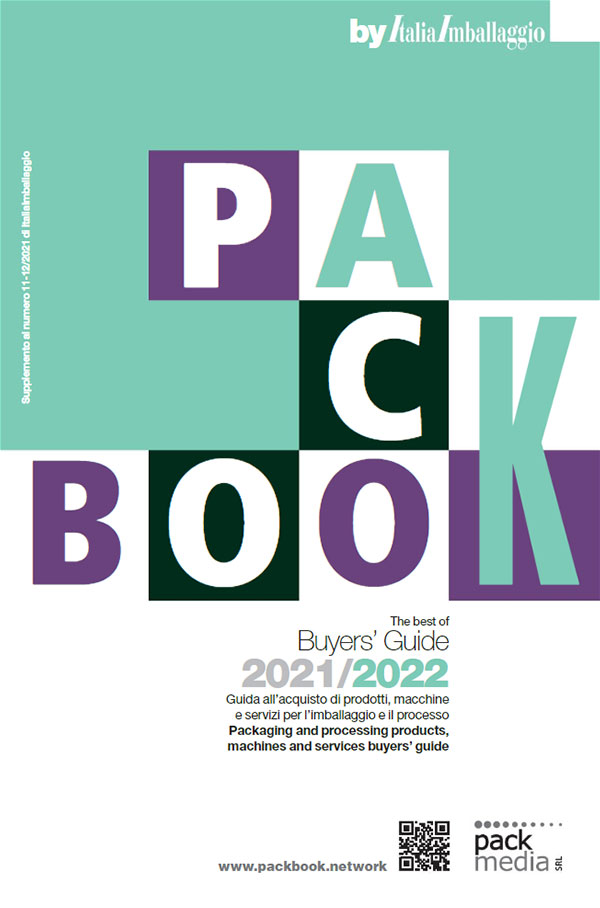 Find out more information about the companies mentioned in this article and published in the Buyers' Guide - PackBook by ItaliaImballaggio
Read more in "Facts and data"