A three-year period of strong acceleration is emerging for the seven business communities surveyed by Ipack-Ima Business Monitor 2022, developed in collaboration with MECS. In addition to providing an overview of global trends to 2024, the survey offers a comprehensive overview of 45 high-potential markets for processing & packaging technology manufacturers. Non-food emerges as the most dynamic segment with the highest growth prospects. 
Source: Ipack-Ima Business Monitor - 2022 edition
A sharply rising global market, which will continue to grow at an average annual rate (CAGR) of 5.3% between now and 2024, is that of the seven business communities at the center of Ipack-Ima's new Business Monitor produced in collaboration with MECS.
According to the findings, the global production of Food, Fresh & Convenience, Liquid Food & Beverage, Pasta, Bakery & Milling, Sweet Confectionary & Snack, and the three non-food communities, namely Beauty & Personal Care, Pharma & Nutrition, and Chemical & Home Care, reached a total turnover of 7,239 billion euros, up sharply (+11.1%) from the 6,518 billion euros recorded in 2020 (total global GDP of 9.3%, two-thirds of which is related to the food sector). According to estimates, growth will continue over the next three years reaching a value of 8,460 billion euros in 2024.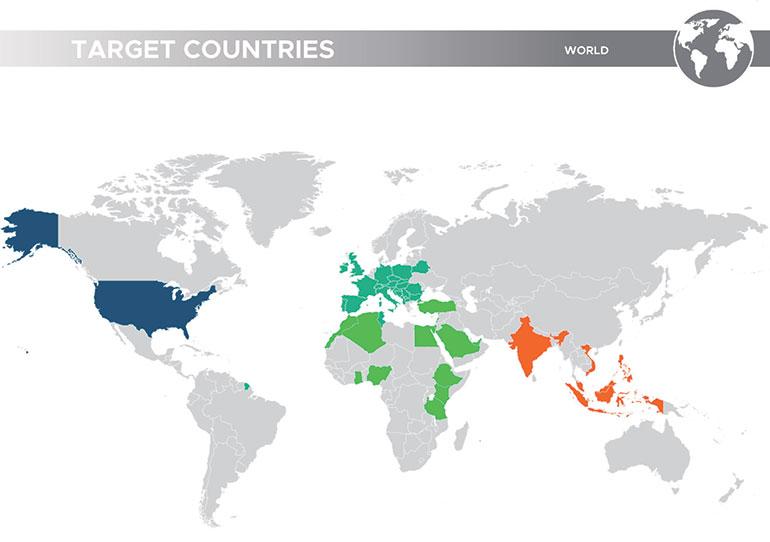 45 countries all on the up
Narrowing the field to the 45 target countries surveyed, mostly concentrated in Europe, the Middle East, Africa and Southeast Asia in addition to the United States, we are talking about production volumes of 3,371 billion euros in 2021 (+7.9% over 2020), or almost half of the world total (46.6%). Between now and 2024, the projected growth is +5.4% annually, to reach a production value of 3.948 billion euros.
Among the countries analyzed, on the first rung is the United States, which put up +7.3% in 2021 (+4.1% CAGR to 2024), with production of €1,118 billion, 15.4% of the overall world total.
In second place, but at a great distance from the U.S., is Germany with about 260 billion euros in 2021 and the prospect of approaching 290 billion in 2024 (CAGR +3.7%).
In general, the Old Continent dominates in the top ten target countries, with two exceptions: India, in fifth place behind France and Italy, with a €166 billion market projected toward €210 billion in 2024 and an expected average annual growth rate of +8.1%, and Russia in ninth place, with a market that is recovering strongly (€119 billion in 2021, up 16.8% from the previous year, and a projected CAGR between now and 2024 of +6.7%).If, on the other hand, attention is shifted to the most dynamic markets, Ethiopia (+20.3%, estimated to reach a market value of €23 billion in 2024), Nigeria (CAGR +16.2%, €71 billion market value to 2024) and Turkey (+14.1% with the prospect of exceeding €126 billion) rise to pole position in the next three years.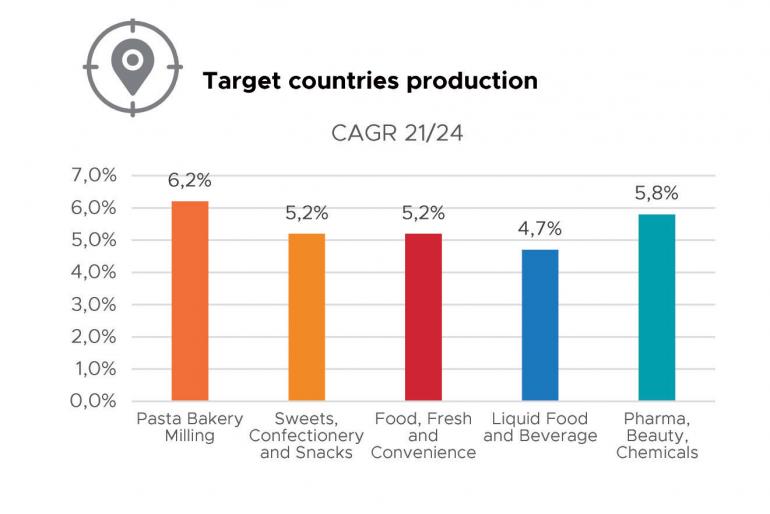 Non-food production will grow at stronger rates
For the next three years, in the 45 target countries and globally in general, the growth prospects of the seven business communities are very good.
In global terms, Food & Beverage (+10.7% in 2021) will continue to grow at the rate of +5% on average per year between 2022 and 2024, rising from 5,254 to 6,086 billion euros. However, it will be non-food production (+12% in 2021) that will experience the strongest growth rates (CAGR +6.2%), rising from €1.984 billion in 2021 to an expected €2,373 billion in 2024.
The two business communities dedicated to non-food (Pharma and Nutritional, Chemicals and Home Care, Beauty and Personal Care), are currently responsible for 27.4% of the global market value.
The Pasta, Bakery and Milling industry (€1,132 billion in 2021) is estimated to have a CAGR of 5.3% over the next three years, for a total value of €1,321 billion. This is followed by the Food, Fresh and Convenience sector (€2,428 billion), which, with an average annual growth rate of 5.2%, will reach €2,824 billion globally in 2024.In contrast, the two communities of Liquid Food and Beverage (1,397 billion euros) and Sweets, Confectionery and Snacks (296 billion) will grow by 4.7 and 4.6% respectively, reaching values of 1,602 billion euros and 340 billion euros in 2024.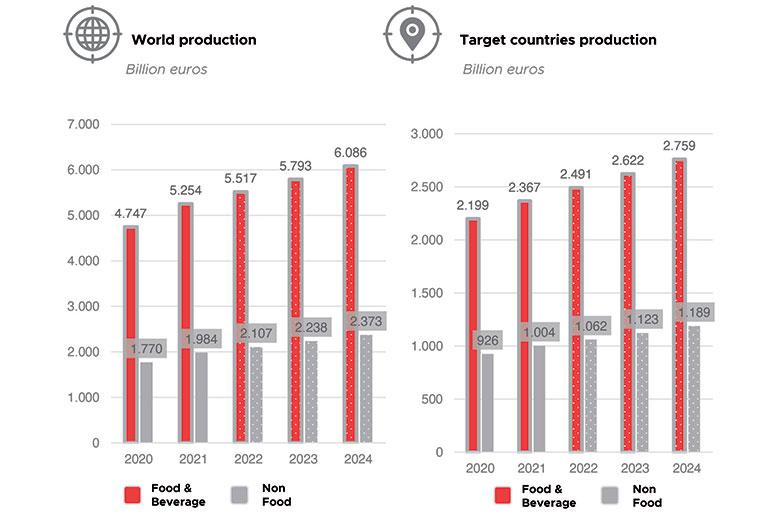 More than half of consumption concentrated in food
The upswing shown by industrial production is aligned with the dynamics of consumption, which, on a global scale, will grow by +3.1% on average per year between now and 2024.
For the seven business communities, the value will rise from the current 8,918 billion to 9,773 billion with slightly more measured growth in the macro-area of 45 target countries (CAGR +2.9%) which, as a whole, weighs about 54% of global consumption.The food segment, with its three categories (pasta, bakery & milling; sweet, confectionary & snacks; and fresh food & convenience) is worth more than half (51%) of the total consumption analyzed, followed by the three non-food segments (pharma, beauty & home care), which are estimated to grow from 2,642 billion in 2021 to more than 2,800 billion in 2024. Finally, the beverage & liquid food category is set to run faster than average: +4.6% CAGR over the three-year period that will bring consumption to close to 2 trillion euros globally (of which 1.4 trillion related to alcoholic and non-alcoholic beverages).
Pharma, beauty & chemicals machines run faster
Within the 45 target countries and seven business communities, the packaging and packaging machinery sector moved a 2021 turnover of 23.9 billion euros, a value that corresponds to 59% of the global total (40.6 billion euros). Worldwide forecasts indicate that in the next three years growth will be less brisk than the production trend: the estimated average annual rate is 2.4%, which will lead to a combined total of 43,7 billion euros. Breaking down this value between the food and non-food business communities, we see the decisive weight of food packaging technologies (15.6 billion euros in 2020 destined to reach 17 billion in 2024, with a CAGR of 2.1%), followed by beverage packaging machines (12.6 billion euros).
The most dynamic segment, however, is machinery for pharma, beauty & chemicals, which is expected to grow at an average annual rate of 3.6% between now and 2024 to reach a total - for the three non-food business communities - of 13 billion euros.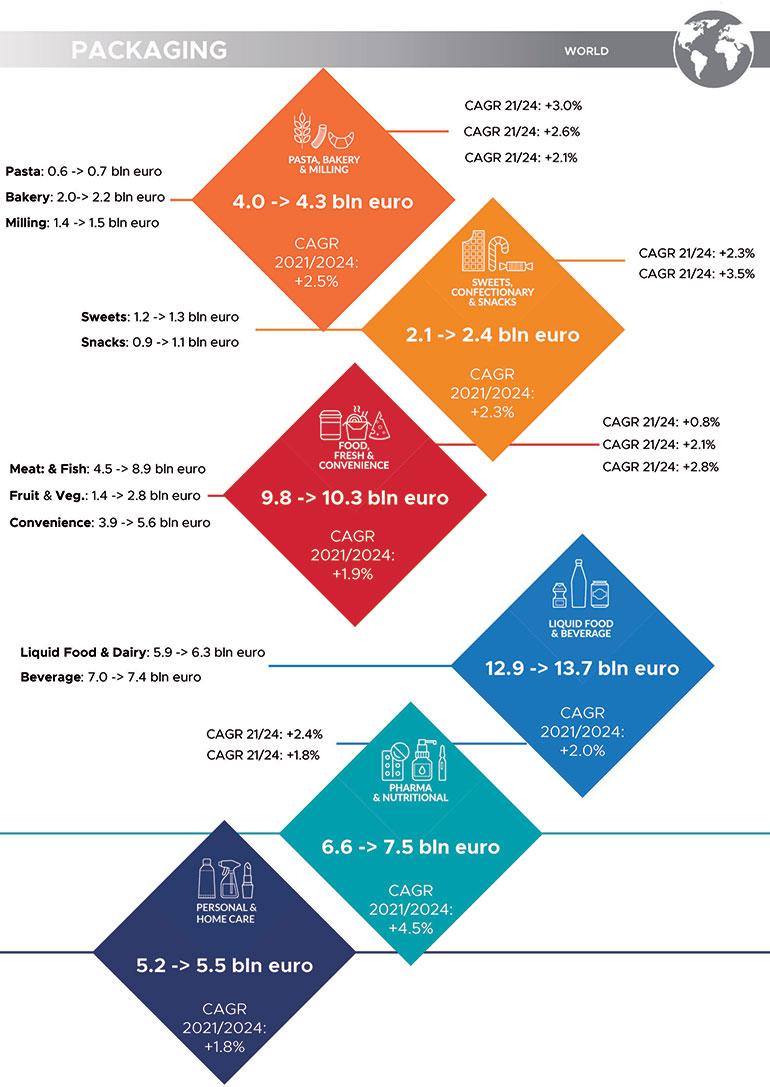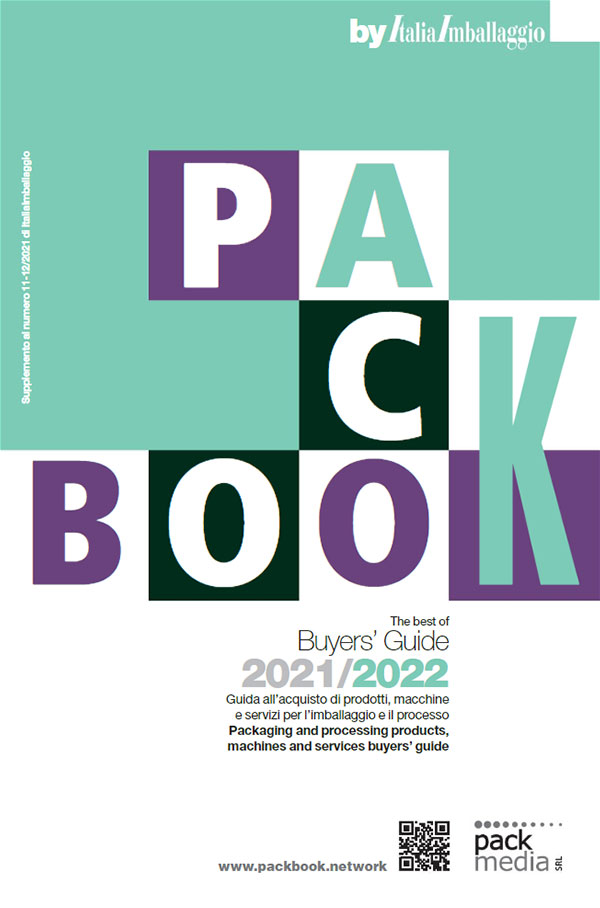 Find out more information about the companies mentioned in this article and published in the Buyers' Guide - PackBook by ItaliaImballaggio
Read more in "Facts and data"