Foods and packaging with a high service content. Snapshot of a developing food sector and the packaging numbers.
Barbara Iascone
Ready foods to be consumed without having to be cooked, either because they have already been cooked, or they are semi-ready, and need only to be heated, but also frozen, for which it's necessary to finish the cooking or to consume "natural": this best sums up the Fresh & Convenience Food area.
Much used abroad, and for a long time also in the domestic context, ready foods of varying nature, mainly sold by mass retail and delicatessens, are making headway also in the Italian market. Based on the latest available information, in 2022 the general trend of the sector has returned to a positive sign, after a disastrous 2020 – due to the large-scale consumption of frozen products with respect to fresh ones due to the pandemic – and an uncertain 2021. The forecasts for 2023 are, however, for further growth.
The offer of the segment is variegated, with many different products and with equally diverse trends. The real driver of the sector is consumption by the younger population, curious to try new things, especially with an ethnic flavour.
Thanks to "ready foods" meeting this demand is easier and certainly less costly compared to consumption in restaurants. The online distribution channel is the one with greatest growth, even though sales of mass retail and grocery stores resumed to full speed after 2020.
The market in figures
Around 16,900 t/000 of products in this category were packaged in Italy in 2022: 84% relate to first courses, including frozen products, ethnic first courses and soups. 10.2% relate to IV and V range fruit and vegetables (salad, fruit salads, cooked vegetables, etc.). Fresh fish products, including both starters and second courses, but excluding sushi, accounted for 0.9%. The frozen products heading (0.7%) include pizzas, while the "other" heading (4% of the entire range) includes various meat-based preparations (veal with tuna sauce, meatballs, various stews, etc.), savoury pies, sushi and dessert products.
Table 1. Segmentation of the convenience food market (values in t/000, year 2022).
|   | Quantity | Share |
| --- | --- | --- |
| First courses 1 | 14,200 | 84% |
| Fresh cut produce | 1,725 | 10.20% |
| Fresh ichthyic products 2 | 159 | 0.90% |
| Frozen foods 3 | 125 | 0.70% |
| Other | 710 | 4% |
| Total | 16,919 | 100% |
(1) Including frozen first courses,
(2) Excluding Sushi,
(3) Ready frozen foods excluding first courses
Source: Banca Dati Istituto Italiano Imballaggio
Table 2. Breakdown of packaging mix (values % out of tons of packaging).
| | |
| --- | --- |
| Plastic trays | 74% |
| Flexible converter packaging | 16% |
| Aluminium trays | 8% |
| Cardboard containers | 1.50% |
Source: Banca Dati Istituto Italiano Imballaggio
Packaging numbers and types
Given that these foods, as we have seen, have a high service content, the packaging must be of a corresponding level. The food must be preserved to maintain its main characteristics; while, in fact, on the one hand, the organoleptic qualities must be maintained, on the other hand, account has to be taken of the product's shelf life, which can be 1 day or several months, as in the case of frozen products. In many cases, it's not only the packaging that has to guarantee optimal results for the preservation of convenience food: the environmental conditions and the correct temperatures to be maintained throughout the life of the product are fundamental.
Another essential element for packaging is, therefore, the ability to communicate in a precise and immediate manner the main information about the proper preservation of a product and its best use. For this reason, many leading companies have opted to use colour codes and symbols on packages that facilitate the identification of product type.
Introducing the question of the packaging quantities regarding this sector, on the basis of an analysis of the numbers in the Italian Packaging Institute Database, in 2022 around 531,000 tonnes of primary packaging were used. If we add secondary packaging, that is, carboard boxes mainly used in the frozen products sector, we arrive at 540,000 tonnes.
With regards to packaging with direct contact with the product, we find a net predominance of plastic. The types of packaging used are trays in both PET and polystyrene (around 74.5%), bags and trays in flexible polylaminate for 16%, aluminium trays for 8% and, in last place, cardboard packages (1.5%). The total of plastic packaging used to package products in the convenience foods area (trays and bags) represents around 40% of the total of plastic packaging used for the food sector (beverages excluded).
Packaging in plastic trays is used for almost all types of ready foods, such as ready salads, also combined with dressings and cutlery, and pieces of fresh fruit. The trays are mainly made of PET or of flexible laminated material by converters (with thickness not greater than 0.2 millimetres).
The flexible material from converters is used both to produce the bags for IV-range products and for the top of trays for ready products. 90% of these closures are made with a film laminated and heat-sealed to the tray: these closures make it possible to preserve products with a shelf-life greater than 48 hours and all those foods packaged in a modified atmosphere. In all other cases, a plastic film can be used or, otherwise, the packages can be closed with covers of the same material as the tray.
The aluminium tray is used almost exclusively in gastronomy, and is present in both mass retailing and in small delicatessens; in some cases, it's also used for the delivery of online orders. The closure is principally with a plastic cover.
Cardboard containers, generally used for express gastronomy, have an internal coating that creates a barrier effect. The cellulose container effectively becomes a rigid lamination. In the last few years, producers of packaging used in the Fresh & Convenience area have tried, as far as possible, to use material originating from recycling; also with regards to laminates, use has been made of coupling between paper and recycled plastic.
This is undoubtedly a driving factor for the entire packaging sector, called to respond to the demands of consumers, today very attentive in the choice of products, also on the basis of the packaging that contains them.
Barbara Iascone Istituto Italiano Imballaggio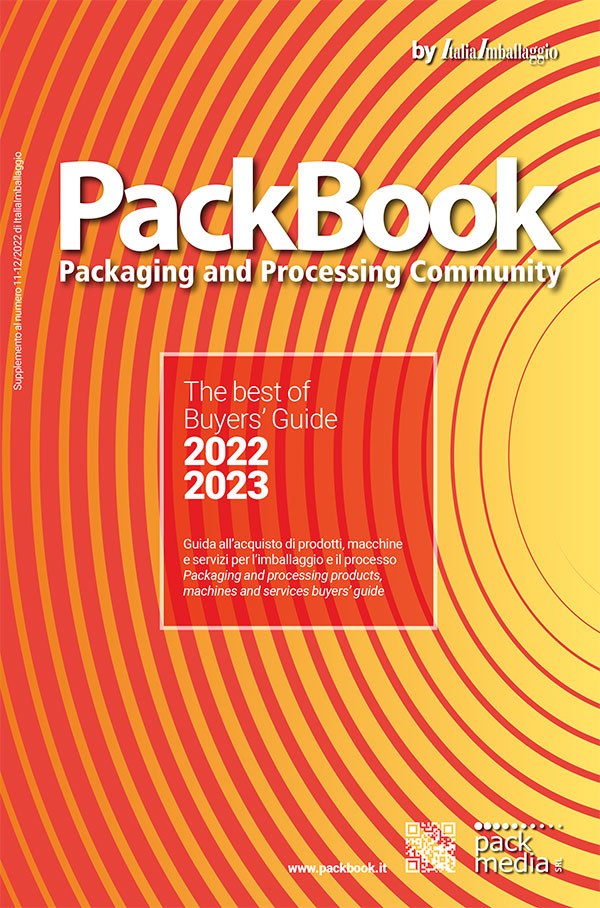 Find out more information about the companies mentioned in this article and published in the Buyers' Guide - PackBook by ItaliaImballaggio
Istituto Italiano Imballaggio
Read more in "Facts and data"