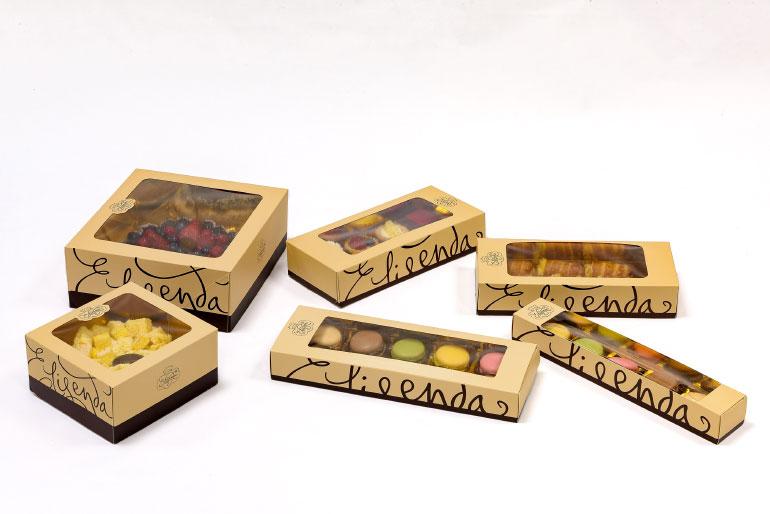 Packaging for Elisenda® Self Counter
responsible | educational | sustainable
What it is. Esselunga's Sustainability Report aims at converting packaging into recyclable, recycled or compostable materials by 2025. In relation to this goal, the company has launched a project for a complete overhaul of the packaging used in the self service sales of Elisenda® Pastry. Through an eco design study, the packaging's sustainability was improved by eliminating non recyclable plastic (in favor of recyclable solutions), reducing the impact on logistics and optimizing the housing of products within the packaging.
Materials. Package and insert made of FSC pure cellulose board with opaque outer coating and golden inner or outer coating and antifog polypropylene window.
Product or target market. Elisenda's® self service assortment includes the lines of Cannoncini, Mignon pastries, Macaroons and Cakes.
Production is carried out in Esselunga's own facilities with direct sales in over 100 stores.
Design and communication. The design review of the packaging allowed the change of transport modes (from pre assembled to flat), so as to reduce, for the same annual consumption, the space required and the number of trucks needed for transport. In terms of communication, ample space has been dedicated on the back of the pack to instructions on how to correctly dispose of the packaging, in order to promote virtuous separate waste collection practices among the customers.
Technology. The change of packaging has led to an improvement in production/industrial performances, converting the semi manual production (with a high labor impact) into a continuous line production with product and process optimization.
Sustainability. The pure virgin cellulose cardboard is certified FSC, to guarantee the protection of the forest heritage; the cartons are certified with Aticelca Method 501/19 level B to certify recyclability in the paper supply chain. The focus of the packaging revision was to reduce the weight of the single components with a consequent reduction in the tons of raw materials used and the separability of components, eliminating non recyclable plastic (PVC) in favor of recyclable plastic (PP).