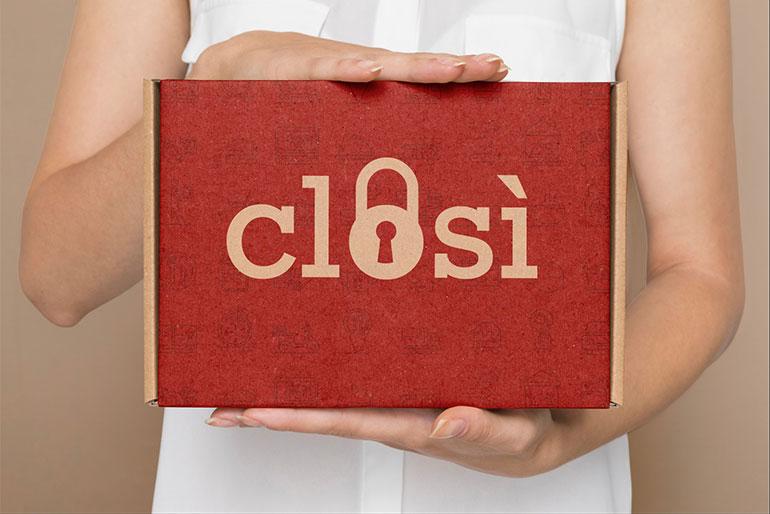 CLOSì
balanced | safe | accessible | transparent | informative | contemporary | sustainable
What it is. CLOSì is a corrugated cardboard packaging system with an anti-tampering closure system incorporated in the design of the box itself. What makes CLOSì special is the innovative closing system which, by exploiting the "spring effect" of the corrugated cardboard, manages to create a joint that guarantees the integrity of the package and makes any tampering attempt evident and irreversible. In this way, there is no need to add adhesive tape or other materials, making the product 100% recyclable.
Materials. 61% recycled corrugated cardboard.
Product or target market. The main application concerns the world of online sales (single shipments with the need to ensure the integrity of the product) and can range from different categories, from food not in direct contact, to wines and spirits, electronics, luxury, etc.
Design and/or communication. The box design includes two tamper-evident closure systems and two tear-off strips, which are part of the box body. In this way it is possible to close the box at the time of shipment and, if it is necessary to make the return, the second closing system can be used to re-ship the goods. Thanks to digital printing with water-based inks, it is possible to print traceability codes and any type of personalized information, differentiating the message for each box.
Technology. CLOSì model can be executed on both automatic and manual die-cutting machines, it can be printed or neutral, and can develop dimensions and shapes to adapt to different contents. The abolition of other packaging materials makes it possible to avoid further steps in labeling machines, bagging machines, or adhesive tape applicators. CLOSì is protected by an Italian utility model patent and is guaranteed by ISO 9001 quality management system, while resources are managed in a suistanable and responsible way, thanks to the FSC® certification system. The CLOSì structure is studied and reworked from time to time, depending on the content and external conditions to which the packaging is exposed during transportation.
Sustainability. CLOSì is made of corrugated cardboard from a controlled supply chain, 61% recycled, and it is completely recyclable. Its structure adapts to the content, it is traceable and customizable in a sustainable way thanks to digital printing with water-based inks (the use of plastics clichès is not envisaged). Finally, the box guarantees the possibility of double use through the return system.