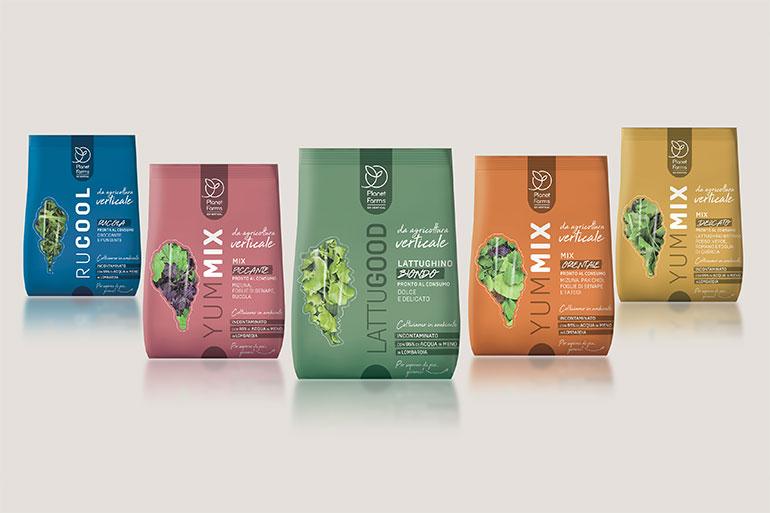 Bag in FSC® paper for leaf salads
safe | informative | sustainable
What it is. Recyclable block bottom stand-up bags in FSC® paper for leaf salads produced by Planet Farms, leader in the vertical farming sector. The bag is made with an IMA Ilapak vertical packaging line.
Materials. FSC® paper 50g + PP Coex 20 my.
Product or target market. Ready-to-eat leaf salads, large-scale distribution.
Design and/or communication. This is the first paper-based stand-up pack for this sector, with a thin plastic film to protect product from moisture. This package is the meeting point between product quality protection, commitment to sustainability (the plastic percentage is so low that entire pack can be classified as disposable in the paper) and the desire to tell the product, by means of a simple and direct communication, eye-catching colors and disruptive and fanciful naming. Planet Farms packs stand out on the shelf and story-telling communication is focused on the added values of product and process of the company, that has developed a unique vertical cultivation system in the world to give a concrete answer to the need for healthy, high quality agricultural products with a very low environmental impact and affordable for everyone. Double back for single reference and qr code that redirects to the website complete the layout.
Technology. Pack made on an innovative and efficient IMA Ilapak's vertical packaging line - consisting of Vegatronic 6000 bagging machines combined with WA 14-65 multi-head weighers - capable of managing new generation sustainable films and featured by hygienic and open frame design, technical solutions aimed at reducing waste, Industry 4.0 control and connectivity, ease of use and maintenance. Thanks to the highly automation production process, once the package is opened, the consumer will be the first human being to touch the salad leaves.
Sustainability. Environmental, social and economic sustainability is the starting point and the very essence of Planet Farms, that combines nature and technology to talk about taste and sustainability. Each process is designed to minimize the impact on the planet and to achieve resources greater efficiency with the aim to meet the needs of current generations without depriving future generations of same opportunities. The supply chain is totally integrated and thanks to the features of production process no more than 60 seconds pass from cutting to packaging, thus allowing to offer a very fresh product on the shelf. Moreover, Planet Farms salads do not need to be washed before eating, offering the consumer an additional service level and further water savings.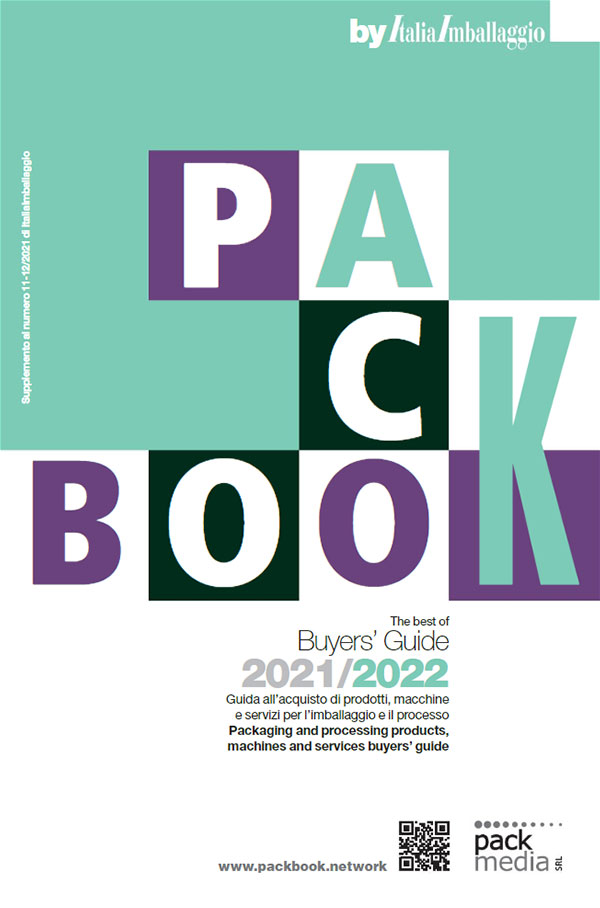 Find out more information about the companies mentioned in this article and published in the Buyers' Guide - PackBook by ItaliaImballaggio