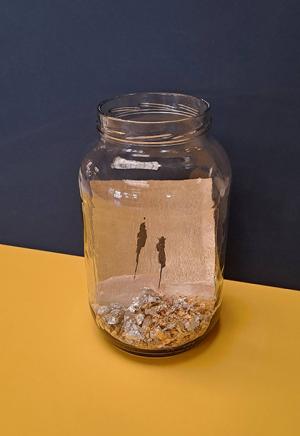 The long maturation over years of research gives Grecale's artistic experience a decided poetic versatility.
A multidisciplinary artist, he expresses himself by using plastic materials such as, for example, the mixture of marble dust and vinyl glues, but the material that is most congenial to him, among the many handled, is chalk, with which he tries his first experiments in a game that, little by little, involves him with increasing enthusiasm and energy.
He works the plaster with his hands and creates bases on which to apply acrylic colors and gold and silver foil, which become his unmistakable note.
For years he exhibited at trade fairs dedicated to design and furniture complements of international scope, and today his works are housed in private and public collections around the world, from the United States to the Middle East.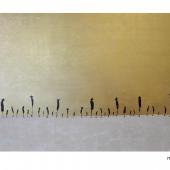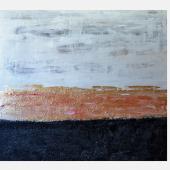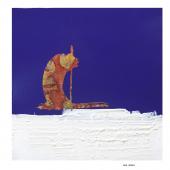 A word from the critics
«To the question of whether one is born or becomes an artist, Mauro Grecale seems to satisfy the second hypothesis; in fact, he approaches creativity not through electrocutions or explosions of talent, but little by little, starting from a healthy craftsmanship. Grecale comes from a family of wood craftsmen, and is therefore from the very beginning very familiar with a world that revolves around art, acts as its corollary, its complement. [...]

He begins by sprinkling unpolished plaster on wooden boards and painting this rough surface with simple images, the sun, the moon, a landscape, a wheat field; he moves from very small formats to large sizes.

[...] He gradually frees himself of the references, a little too easy and rhetorical, to landscape reality and, still maintaining his chalk bases, attempts the path of abstraction; the forms vanish and give way to a play of strong colors, accentuated by the roughness of the support. [...]

From the first tablets, timid and uncertain, Grecale has arrived at works that highlight all his research and happy conclusion. These works live of contrasts, between the rough surface and the smoothness of the underlying layer, between the absence of color of the plaster that opens up to show a polychrome world, in a baroque PLAY of appearance and underlying reality, in an alternation in short of positive and negative, aesthetic representation of an existential reality».
Sergio Vanni