Marchesini Group opened its Pianoro plant for its cosmetics division's Open House. An opportunity to enter the world of a company that has made quality its banner, as Lorenzo Gatti, Beauty Division sales manager, confirmed to us.
Film screenwriting manuals teach that it is the details that give credibility and depth to a story. In the care that the author gives to the details is found a trace indicative of the quality of the work, so much so that in masterpieces nothing is left to chance. I thought back to these notions learned during my university studies on the journey home from Pianoro at the end of the Marchesini Group cosmetics division Open House.
In the interesting guided tour of the plant, all aspects were arranged with great precision and the company's desire to guarantee, from every point of view, the highest level of quality emerged. In one of the social moments, for example, it was possible to try out a Formula 1 simulator, the same one, just to say, that is in the Ferrari Museum in Maranello. If so much attention is given to "side activities," I asked myself, how much will be devoted to the core business?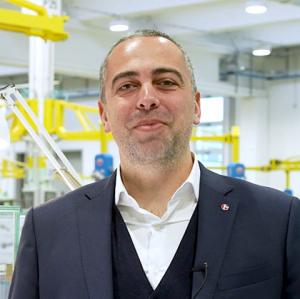 The answer came in the course of the day, when it became clear to me that the Marchesini Group, always and everywhere, pursues excellence. The words of Lorenzo Gatti, Sales Director of Marchesini Group Beauty, confirmed this:
The strategy of buying small, highly specialized assets has led us to have many high level niches, which we synergically propose to propose integrated solutions. It is as if we buy many small diamonds to make a necklace. This gives rise to a division that produces quality complete packaging lines, a feature that sets us apart in the market and allows us to present an exceptional fleet of machines».
In addition to the event dedicated to the cosmetics division (which we attended and which was held in conjunction with Cosmopack 2022), a reminder that the Open Door Pharma (on the dates of Pharmintech 2022 in Milan) and the Talent Open Days, reserved for students from schools and universities, were also organized.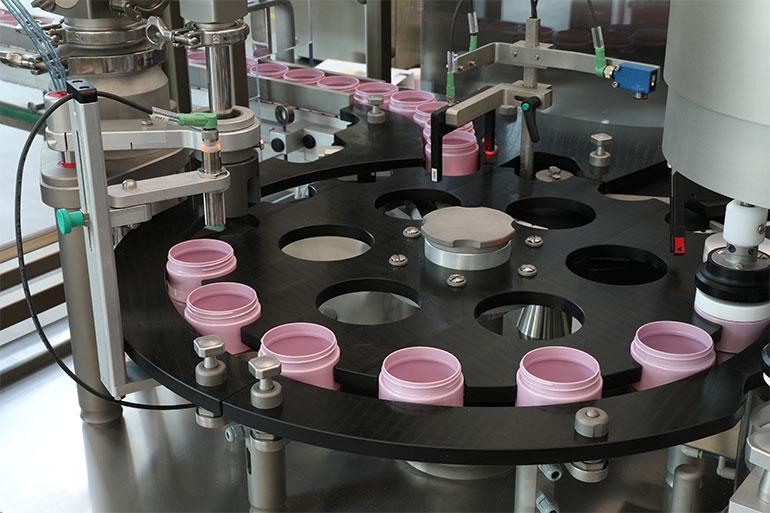 Jewels on display
Brands such as Axomatic, Cosmatic, Dumek, Corima, V2 Engineering, Vibrotech, Rinova and SEA Vision embellished the lineup offered by the Marchesini Group, which were on display for journalists, customers and suppliers during the Open House days (see shoulder).
«We are happy to have finally been able to open the doors of our new headquarters», commented Valentina Marchesini, a member of the Group's board, «To show visitors our latest technologies, sharing ideas and projects for the future while respecting important issues such as sustainability and personal care».

The goal can be said to have been achieved, given the success of the initiatives. Lorenzo Gatti takes the floor again, «For the Open House Beauty alone we had more than 300 visiting operators, and even at the fair our booth captured a lot of interest. Such feedback gives us even more strength to take on new adventures».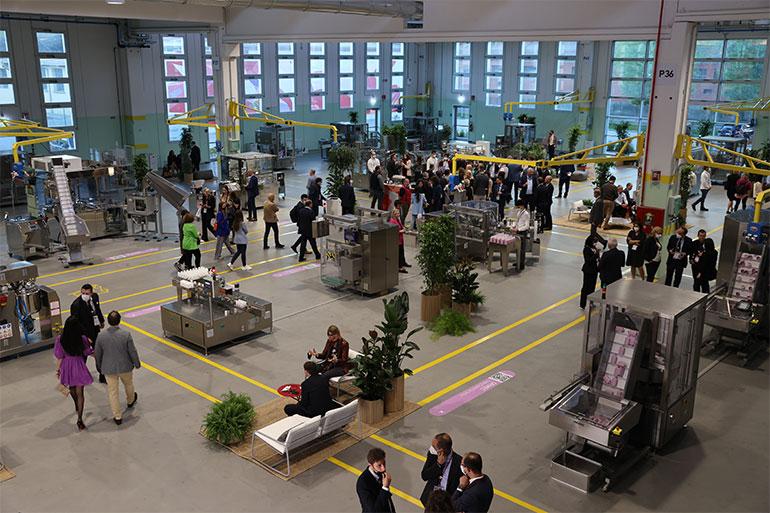 Group strength
A strength that Marchesini expresses as much in numbers as in corporate strategy. Regarding the former, the 2021 consolidated turnover stands at 490 million euros, (+9.1 percent compared to 2020), 76 percent of which is generated by exports. In particular, the strong demand for anti-Covid vaccine packaging lines resulted in a 46 million budget lsting, while the cosmetics packaging machine segment reached 44 million (+8.9 percent over 2020).
From a strategic point of view, Gatti explains, «the Group's economic and technological solidity made it possible to implement the top management's decision to create a lot of inventory as early as the last half of 2021, once the first warnings of material procurement problems were felt, especially of electronic components. From the technical point of view, where possible, then we are trying to replace what was our standard components with solutions that will allow us to maintain delivery times for machines, which, in a dynamic world like the current one, are the biggest concern of customers».

«The situation in Ukraine, on the other hand - Gatti continues - is having a limited impact on us because we have established markets and are getting stronger in Europe. In the eastern area we were working but not so much; in perspective, however, Russia was a country we would have liked to focus on». To find cosmetic markets in potential growth you also have to look elsewhere: «the most promising ones are the Middle East and South America, which is very much in turmoil and where there are big users who are looking for superior technologies, so getting closer to European solutions».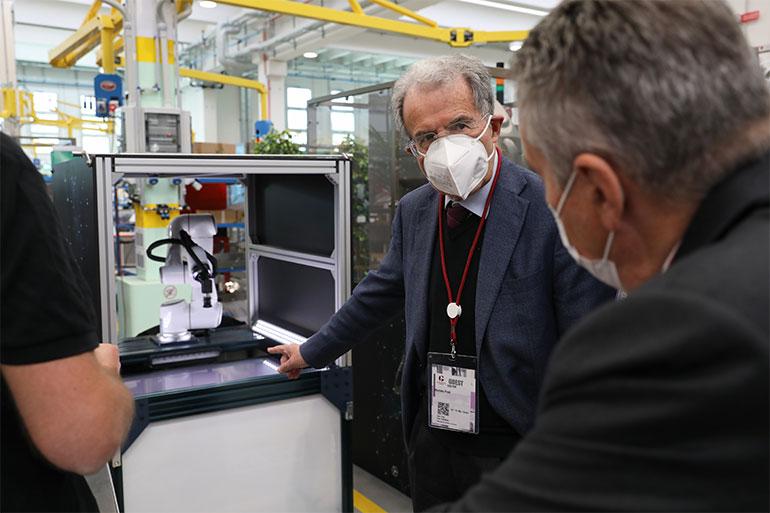 Growing smartly toward Industry 5.0
At Marchesini the ideas are clear: «If we look at the Group as a whole, the Pharma segment is largely consolidated. In the beauty part, on the other hand, we want to grow in a constant and controlled way, opening commercial networks and looking for new products but avoiding exaggeration so as not to risk losing quality».
In fact, the cornerstone of everything remains to build a machine that works at its best, structured not to have problems.
«Then it's clear that we offer a lot of support services, from the simple application via phone that anywhere in the world, after connecting to the network, allows our operators to see the machine and dialogue with the customer's technicians, to more advanced packages proper to Industry 4.0. Embedded in the machines, they allow, with fixed or mobile cameras, our operators to remotely intervene on the panels and at the same time download tracers to precisely identify the nature of the problem. There is a great focus on on-board sensor technology that allows us to anticipate any critical issues and necessary maintenance - this is where the future and Industry 5.0 is headed».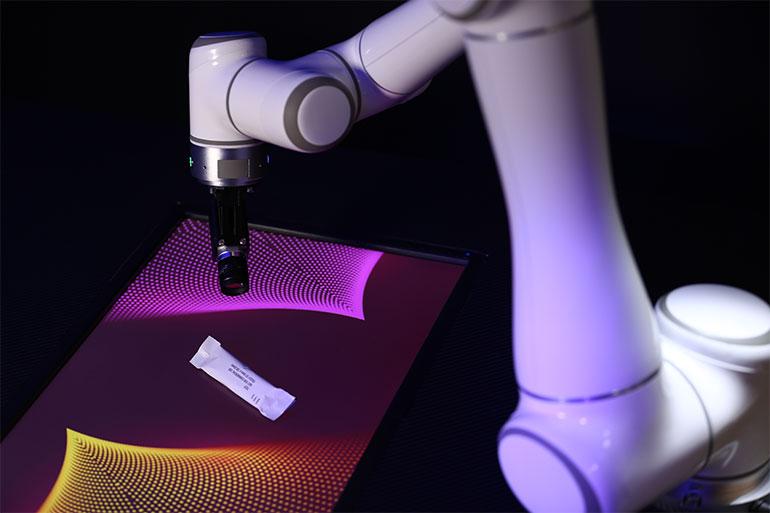 Believing in young people and seeking new paths
Open events - including those aimed at students - with a wide range of machines on display indicate Marchesini Group's intention to invest in innovative projects.
 Training and young people. Two aspects that play a major role in the Marchesini Group's approach. «We find qualified labor - Gatti says - partly because ... we qualify them internally. Proof of this are the Talent Open Days, designed to introduce our reality to young students who perhaps, by discovering it and becoming attached to it, can become the technicians of tomorrow».
The company's sensitivity to this issue and its willingness to involve fresh forces to achieve new goals are reflected in its collaboration with Eyecan, a startup born from a spin-off with the University of Bologna.
The results were visible during the cosmetics division's Open House: an artificial intelligence-based solution to teach robots to think autonomously, particularly in picking applications. Normally, it is humans who instruct the robot through huge datasets of images and then program it to tell it how to behave in case of defects or anomalies - a chipped vial, a syringe that is not perfectly assembled... - that need to be excluded from the production process.
The pilot project developed by Marchesini Group and Eyecan generates the hundreds of thousands of images needed to train the robots' neural network in minutes and automatically.
In other words, with the help of machine learning algorithms, the company's robots are programmed through the use of another robot that acts as a tutor and allows them to perform autonomously the recognition of any object in any condition, with obvious improvements in performance and production. This technology will be installed on pharmaceutical packaging lines that will be shipped to customers within the year.
In addition to this latest development, among the machines on display in the 5,000 m2 of the new Pianoro plant, alongside Dumek turboemulsifiers, Tonazzi-Vasquali-branded fillers (MV 545 both in standard version for rotary table jars and special version, made specifically for a customer, capable of working at high speeds with high-end oval jars), Vibrotech technology and SEA Vision vision/serialization systems, there is another project that testifies to the Marchesini Group's effort to chart new paths: C-Fly, a crate palletizer in which, instead of the usual arm, the task is performed by a robotic head moved by 4 pairs of cables driven by brushless motors. Compact and ergonomic, the solution has in its small size one of its main advantages.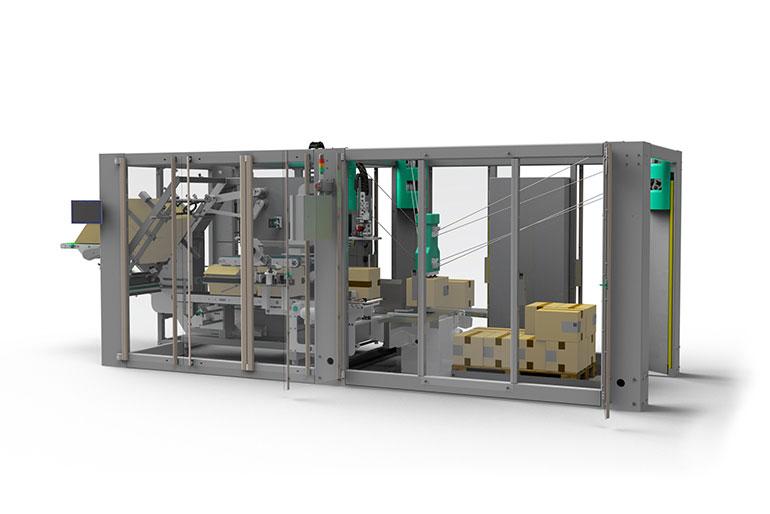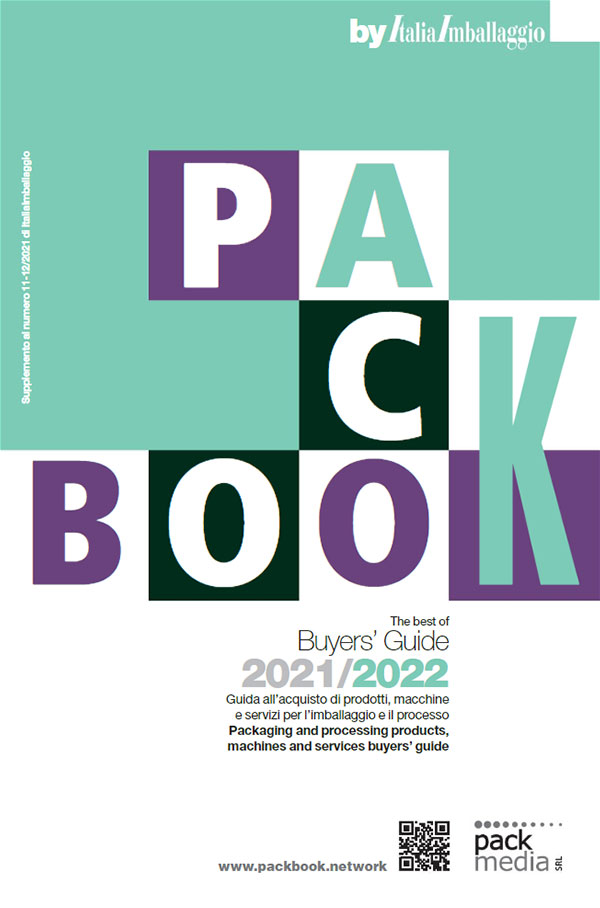 Find out more information about the companies mentioned in this article and published in the Buyers' Guide - PackBook by ItaliaImballaggio