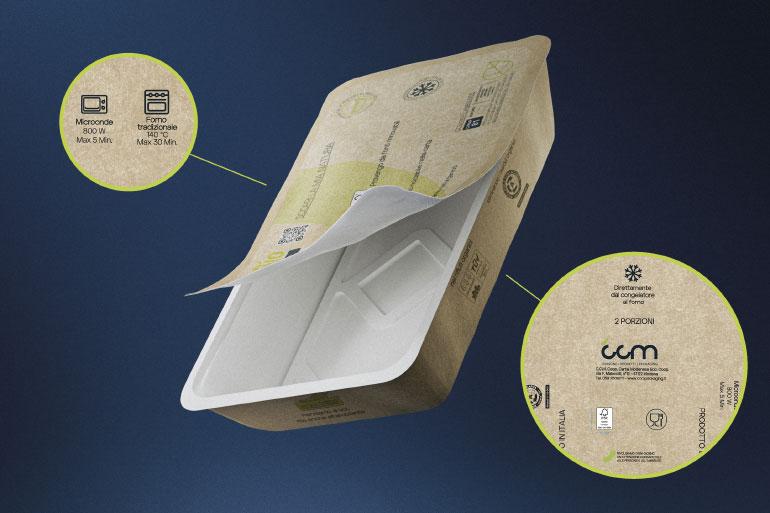 BeBio® System
responsible | balanced| accessible| educational| informative| contemporary
What it is. Paper and biopolymer tray and closing film. BeBio® System is an Italian Patent Pending packaging system for the preservation and reheating of food, consisting of a cardboard tray with a biopolymer coating and a paper closing film also coated with biopolymer. The packaging is suitable for contact with all types of food and avoids the use of a traditional polymeric closing film.
Materials. FSC® certified cellulose and compostable biopolymer, both from renewable sources.
Product content or target market. Product intended for the gastronomy sector for the GD/DO market, industry, normal trade (traditional) and HO.RE.CA.
Design and/or communication. An evolution of the traditional packaging system that allows to improve the circularity of the packaging, guaranteeing the opportunity of a double end of life and a clear communication to the final consumer on the use, disposal and sustainability. The closing film, an innovation of BeBio® System, includes an interactive QR CODE that informs about the sustainability pluses and can also be made in semi-transparent paper to make the content visible.
Technology. The paper closure top, designed to be heat-sealed to the tray, avoids the need to use a traditional plastic or biopolymer closure film, guaranteeing a barrier to greasy substances and humidity in the packaged food, in compliance with the stringent regulations on suitability for contact with all foods. 
The tray, once the closing film has been removed, can be used in a traditional oven or in a microwave oven to heat the food and/or to be stored under refrigeration/freezing conditions (without removing the film). Since the closing film is made of paper, it can be printed and customized according to the customer's needs.
Sustainability. Compostable (OK COMPOST INDUSTRIAL certification) and paper recyclability (UNI 11743:2019 and Aticelca® Evaluation System).